Whole Foods CEO defends high prices: "Nobody's complaining that the Tesla's expensive"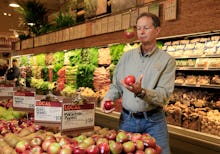 Shopping at Whole Foods? It's no secret you might pay a premium for your groceries. The supermarket chain is known for high prices, leading some to even dub the grocer "Whole Paycheck." 
Though he didn't deny that his groceries are pricey, Whole Foods CEO and co-founder John Mackey told Mic costs are high for a great reason. 
"If you want to get a good automobile, a higher quality automobile, you're going to pay more money," said Mackey, co-author of new book The Whole Foods Diet, in an interview at Whole Foods in TriBeCa, New York, on April 13. "Nobody's complaining that the Tesla is expensive ... Clothes are the same way. Housing is the same way. You pay for what you get."
Is that assessment fair? Here's what some research into food pricing has turned up — and what Mackey says in Whole Food's defense.
How expensive is Whole Foods, really? 
Whole Foods is heavy on high-end products like organic produce, specialty nut butters, grassfed beef, cold pressed juices, kombucha, nut milks and more. But how much more expensive are the products compared to those available through other retailers?
A considerable amount, some investigations have shown: One price comparison from 2016 conducted by Wedbush Securities found that Whole Foods was about 15% more expensive than supermarkets like Kroger, Safeway and Wegmans, as Business Insider reported. Compared to "speciality" grocers like Trader Joe's, Whole Foods was about 19% more expensive. 
Alas, if you're craving a hamburger and you're on a budget, you might do well to get your chuck somewhere other than Whole Foods. The Wedbush Securities price comparison found that meat at Whole Foods was 40% more expensive than at competitors. 
Now, Mackey was adamant that competitors don't always have the same quality standards: "[Competitors] will make a bunch of claims that don't mean anything," he said. "Stores will talk about their meat departments being organic natural, all natural, no artificial ... they take something like chicken and they make a big deal out of not having any growth hormones in it and it's like, yeah, that's because chicken doesn't have any growth hormones in it."
To Mackey's credit, it's true that shoppers should be careful not to buy into certain marketing language: It's illegal for all farmers to inject hormones into chickens, for example, as the National Chicken Council notes on its site.
"Whole Foods has been so successful, people are copying our marketing, and they're making claims that simply aren't true," Mackey said, arguing that competitors don't have "third-party standards" like Whole Foods — referring to the animal welfare standards and other requirements for Whole Foods meats. 
One piece of good news, if you like Whole Foods but hate overpaying, is that competitors to the company could help push down prices. After all, now Costco sells organic produce, Amazon delivers specialty health foods and Trader Joe's has greatly expanded its organic food offerings. Smart shoppers can comparison shop across many different categories — and are learning they can spend way less on foods they don't actually need to buy organic.
Pressure to compete may be why, starting in April, Whole Foods is adopting strategies of "big box grocers" to cut prices, as the Wall Street Journal reports. Whole Foods had disappointing performance in the first quarter of 2017, so price cuts have been encouraged by investors, the Journal noted. 
It's still unclear how much consumers will end up saving, but it seems even the "Tesla" of food can't charge luxury prices forever — just like actual Tesla.
Sign up for The Payoff — your weekly crash course on how to live your best financial life. Additionally, for all your burning money questions, check out Mic's credit, savings, career, investing and health care hubs for more information — that pays off.