The UK just had its first day without coal since the Industrial Revolution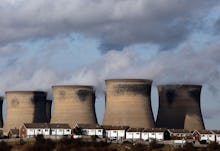 Britain just had its first day without power generated from coal since the Industrial Revolution, the Guardian reported on Friday — marking a major turning point in the country's transition away from coal and towards other energy sources, including renewables like wind and solar power.
An official tweet from the National Grid control room announced Friday's milestone, saying that it was the "first ever working day in Britain without #coal since the Industrial Revolution!"
There have been other zero-coal periods before in the U.K., National Grid said, but this marked the first day-long period without relying on coal-generated power. 
Coal-burning caused pollution problems in the U.K. well into the 20th century — and created London's 1952 "killer fog" incident, which covered the city in a thick haze of polluted air for days, leaving at least 4,000 people dead and sending more than 150,000 to the hospital.
The killer fog led to Britain's 1956 Clean Air Act, CBS News reported in 2016. And now, the Guardian reports, coal is on the decline. The country plans to close its last coal power plants by 2025, and environmental advocates and energy producers alike say Friday is just the first of many more coal-free days to come. 
Things seem to be headed in a different direction here in the U.S., however. President Donald Trump has vowed to bring back coal-mining jobs, despite the fact that the industry has long been on the decline and experts say renewable energy and gas are increasingly affordable and are poised to replace coal, the New York Times reported in March.
In the U.K., however, many are celebrating a farewell to coal. "The first day without coal in Britain since the Industrial Revolution marks a watershed in the energy transition," Hannah Martin, head of energy at Greenpeace U.K.'s head of energy, said in a statement, according to the Guardian. "A decade ago, a day without coal would have been unimaginable, and in 10 years' time our energy system will have radically transformed again."