Trump's executive order on taxes is more symbolic than substantive. Here's why.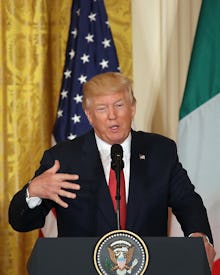 President Donald Trump is set to sign one executive order and two presidential memorandums on Friday, each pertaining to the tax code and Wall Street regulations.
"The president will be instructing us to review all significant tax regulations since the beginning of 2016, and to look at where there are undue financial burdens, unnecessary complexity and requirements, and for us to issue a report that goes through what the issues are and come up with solutions," Treasury Secretary Steve Mnuchin said in a briefing with reporters ahead of the signing of the documents.
But experts say Trump's executive order on taxes looks more symbolic than substantive — possibly in an attempt to send a message about his priorities in his first 100 days, in which he's yet to see a significant legislative achievement.
"[Presidential executive orders are] designed to send a message, and they're the neatest package, in some ways, that they can use to show their supporters that they're delivering on their campaign promises," Matt Dallek, an associate professor at George Washington University's Graduate School of Political Management and expert on the presidency, said.
"At times, obviously, these orders have pretty big ramifications," Dallek said. But he added that Trump's order on tax reform, specifically, is "much more symbolic, rather than substantive, because it's asking for a report."
"On the tax front," Dallek said, "Most of those pieces will have to go through Congress to have significant impact on the tax code."
The Trump administration said it will release a tax reform bill next week that, if passed, would completely change the complex tax code.
Mnuchin defended the timing of the executive order ahead of the release of the tax reform bill, saying some regulations wouldn't be addressed by the as-yet-unseen tax reform bill, which is why Trump's executive order is necessary.
"This has to do with the complexity of tax regulations — some of those issues may be addressed in tax reform, some of those things have nothing to do with tax reform, and the president wants to make clear to the American people that we are going to fix the tax code," Mnuchin said.
However, Trump's tax reform executive order also appears to be duplicative. 
Trump already signed an executive order demanding a review of "unnecessary regulatory burdens placed on the American people." That order, signed on Feb. 24, applied to all agencies and requested a proposal that would identify "regulations for repeal, replacement, or modification" within 90 days. 
Indeed, it's possible Trump is attempting to make it appear that he's accomplished his goal of reforming the tax code before the first 100 days of his presidency come to a close on April 29 without actually doing so.
Trump promised that within his first 100 days he would introduce the "Middle Class Tax Relief and Simplification Act" which he said would, "grow the economy 4% per year and create at least 25 million new jobs through massive tax reduction and simplification."
But it appears impossible for that bill to go through Congress in a week, given that the details of the plan haven't been publicly released.
Aside from working on a tax reform bill, the Trump administration is also trying to revive their failed health care reform bill, as well as fund the government before it shuts down at the end of the week — an immense task for Congress to undertake. 
"It's the easiest thing for Treasury to do," Mark Mazur, the director of the Urban-Brookings Tax Policy Center, told Bloomberg of the executive order on taxes. "It gives a sense of accomplishment of getting something done."