Surprise: Sarah Palin has bad opinions about the O'Reilly sexual harassment accusers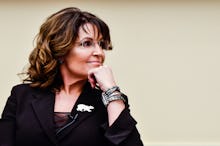 During an interview with CNN on Thursday night, former Alaska governor Sarah Palin offered her unsolicited take on why it had taken so long for 21st Century Fox to fire its star anchor and accused sexual harasser Bill O'Reilly. 
But does Palin think that it's reprehensible that it took the heads of a sprawling media empire years to give O'Reilly the boot, even as the accusations against him mounted? Nope! She thinks it's the fault of his female victims, natch.
"If a woman believes that she is being intimidated and harassed, she needs to stand up and do something about it, not stick around for a paycheck for years and years and years and then after the fact complain about what she went through," Palin told CNN's Jake Tapper on The Lead.
"As a strong woman, I say we should feel more empowered than that and we should take a stand and get out of the place or blow the whistle on whoever is the perpetrator," she continued.
Palin herself formerly served as an analyst for Fox News before being unceremoniously fired herself in 2015. Interestingly, even at that time, she was quick to defend the network and absolve it of any wrongdoing.
"Some things happened that I haven't talked about publicly ... things like getting canned from a job I really liked, kind of, sort of out of the blue, because I called somebody out," she told CBN's Wendy Griffith in a December 2015 interview. 
"It was a shock, but more power to Fox News — it's private enterprise. They can fire somebody for wearing the wrong color of tie that day," she said.