7 secrets Kendrick Lamar revealed about 'Damn.' in first on-record interview since release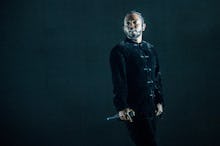 It's been a week since Kendrick Lamar dropped Damn., his fourth studio album, and many listeners began dissecting the lyrics to uncover the various themes and his lyrical genius on the 14-track offering. Lamar took time to break down his process for creating his latest, with Zane Lowe on Beats 1 Radio, in a video interview released today. Here are seven secrets about the making of Damn. that Kendrick revealed during their conversation. 
1. The influence of Tupac, Jay Z and Eminem
Kendrick Lamar mentioned three rappers Tupac, Jay Z and Eminem remain his musical influences. He says because of their approach to rap, he always thinks deeply about the content of his own music. 
"When I listened to Jay Z as a kid. When I listen to Eminem, Tupac, there were things I couldn't understand. But as years progressed and I went back to listen to it again and I've learned and I've grown and I matured, these things blew me away. I found out what they was talking about and how certain things connected to other albums and stories they told growing up in their communities, you know they're whole perspective of it. And in doing that, I love to have that same impact on my listeners." 
2. To Pimp a Butterfly is connected to Damn.
Many believed that Kendrick would release a second album that would be the counterpart to the messages on Damn. That turned out to be false. But Kendrick revealed that his previous album To Pimp a Butterfly is already connected to his present release in that way. 
"To Pimp A Butterfly would be the idea, the thought of changing the world and how we work and we approach things. Damn. would be the idea: I can't change the world until I change myself. So when you listen to records like "Pride.", "Humble.," "Lust.," "Love.," these are all just human emotions and me looking in the mirror and coming to grips with them and thinking of the idea of the world itself and combine them in two records. I would hope the listener can take heed and grab something from both of them two ideas and carry out their day to the best potential of themselves they see."
3. This album does not center Trump's presidency
Kendrick Lamar may have had some choice words on his track "The Heart Part 4" but the rapper says this album doesn't center the current Commander-in-chief. 
"We're not focusing on him. What's going now, we focusing on self. You see different nationalities and cultures are coming together and actually standing up for themselves, you get what I'm saying. And I think that's a pure reflection of this record prior to it even happening. Prior to it even coming out. We say 'Okay we can't control what's going on out there.' There's a whole 'nother power that be, so what we can do now is we can start coming together and figuring out our own problems and our own solutions and I think that's, I believe, I know that this is what this album reflects."
4. How one lesson from Ice Cube influenced his process in writing "DNA."
"I got, I got, I got, I got/Loyalty, got royalty inside my DNA," he raps on the opening lines of the track. He revealed that Ice Cube taught him to always start a song off with a strong presence.
"It's one lesson I learned from Ice Cube. He said if you're first opening lines don't grab the listener, it ain't shit. Period. It has to be statement. And I don't care if the statement is blunt or the statement is held back. They gotta feel it regardless. And people are going to feel it if they know it's true to you." 
5. He sees himself as a vessel 
Lamar also explained his line in "DNA." in which he raps, "I transform like this, perform like this/Was Yeshua's new weapon."
"We're all spiritual beings and that's something I can't run from in music. And when I say as a weapon, going back to the line that you reference, I always felt like God used me as a vessel, period. Whether to show my flaws, whether to show my intellect. To show my pain. To show my hurt. To share my stories."
6. Why he turned down working with Mike Will Made It in the past
Mike Will Made It, who produced his record "Humble." and "DNA.," always wanted to make records with Lamar, but the timing wasn't right until now.  
"You know what's crazy about me and Mike, we've been in the studio for a long time. Longer than you guys would know, but we never made records. He always said one day we gone make them records, them joints, and as always timing is everything. He hit me on the text like is it time yet? 'Like nah it ain't time yet.'"
7. He's a huge fan of Rihanna 
Kendrick Lamar revealed that he's always admired Rihanna before reaching out to work with her on their first collaboration "Loyalty." 
"I've always wanted to work with Rihanna. I love everything about her. Her artistry. How she represents women but not only be themselves, but to express themselves, the way she express herself through music and how she carry herself. I love everything about her. 
He continued:
"I always wanted to work with that. I had the record. I did the record. And immediately her name just popped up, reached out, we locked in the studio and we made it happen."
Mic has ongoing Kendrick Lamar coverage. Please follow our main Kendrick Lamar hub here.