Philadelphia activist stops taking HIV meds to protest Mazzoni Center, wants CEO to resign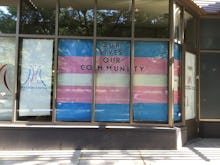 One Philadelphia activist has put his body, quite literally, on the front lines of the fight for justice. 
Abdul-Aliy Muhammad has ceased taking his antiretroviral medications, meant to suppress his HIV, in order to protest Mazzoni Center, Philadelphia's LGBTQ community health center, and its CEO, Nurit Shein. 
Shein and Mazzoni Center have been at the center of massive protests this week. On Thursday, 60 full-time employees walked out of an all-staff meeting and called on Shein to resign for a lack of transparency regarding an investigation into the center's former medical director Robert Winn. Winn resigned last week after an investigation into sexual misconduct allegations were made against him, which the board and Shein initially ignored, Philadelphia magazine reported. Philadelphia had reported previously that clients approached the administration about receiving sexually explicit texts from Winn. 
This was the second staff walkout in nine days. The first walkout was organized by the Black and Brown Workers Collective, which Muhammad co-founded. 
Muhammad said in a phone interview that he has received varying levels of support for his decision to stop taking his medications in solidarity with patients who have been harmed by Mazzoni. While many of his friends involved with direct action understand Muhammad's stance, he says his medical doctor remains reticent. 
"It was time for me to rise up and use this as a form of direct action," Muhammad said. "If it may have an impact on my health because of it, it's well worth it." 
Staff also released a "statement of no confidence" about the situation, according to Philadelphia magazine. 
"Current leadership represents a culture of secrecy, poor oversight and complicity — which has allowed institutional racism and abuse of power and authority to flourish," the statement reads. "We must embrace a culture of transparency and accountability that helps reestablish trust with the community we serve. The health of our agency and its future success demand nothing less." 
Muhammad previously worked at Mazzoni Center, as well, from 2008 until 2013 and again from 2015 to 2016. Muhammad hopes his action will show Shein that she is complicit in Winn's abuse. 
"I think that pressure is on for her to resign and I want to make sure that this happens," Muhammad said. "That's why I'm committing myself to not taking my meds until this happens."
One director told the Philadelphia Weekly that Shein and the board had heard about allegations against Winn about four or five years ago, but Shein pressured the board not to act. 
"I want it to be clear this is how serious to me and the community," Muhammad said. "These allegations of sexual misconduct should be taken seriously.
"She had people coming to her saying that he would bring down Mazzoni Center. This woman lied and said she would take action and she did nothing." 
Mazzoni Center did not immediately reply to Mic's request for comment. 
Life expectancy for people on HIV medication has increased dramatically. For some white gay and bisexual men, life expectancy with HIV is the same as the general population, while for people of color it still lags behind. Being on successful HIV treatment, also called being "undetectable," and has several positive personal and public health benefits. 
Muhammad says he understands the potential health risks but believes he's sending a powerful message to Shein about transparency and how Mazzoni center treats its patients and staff. 
"She needs to leave immediately," Muhammad said. "This all could have been avoided had she listened, not just to me, but to medical providers, to the victims of Dr. Winn. This could have been all avoided."