'Fate of the Furious': 4 pitches for the Dwayne Johnson and Jason Statham spinoff film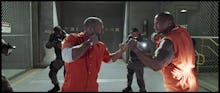 The Fate of the Furious is still revving up box offices around the world, but Universal already has their eyes on another cornerstone of the beloved franchise about cars, Coronas, candy asses and family. As reported by Deadline, the studio is prepping a spinoff film around the characters Luke Hobbs and Deckard Shaw, played by Dwayne "The Rock" Johnson and Jason Statham, respectively. 
For fans of the franchise (and there are clearly many of you out there, just admit it), this is pretty exciting news. The perplexing yet ever-growing bromance between Hobbs and Shaw was one of the best parts of Fate of the Furious, which saw Shaw turn from main antagonist in Furious 7 to likable antihero. I mean, anyone's likable when they toss some noise-cancelling headphones around an infant and take out an entire airplane of bad guys. 
But what would a Hobbs-Shaw spinoff even be about? The gnawing sexual tension between every male feud in the franchise? The secret to Hobbs' pearlescent body oil? A prequel based on their childhood (potential spoiler: they went to the same school and were bullied by the same kid)? 
I don't pretend to have the answers — I am, tragically, not part of the Toretto famiglia — but I have some movie pitches. Here's four spinoffs they should consider, furiously. 
Go head-to-head with Shaw's mom, who is Helen Mirren
Yes, Oscar-winning actress Helen Mirren has a bit part in Fate of the Furious as Shaw's shady mother. She is criminally underused in the film, mostly working behind-the-scenes to help Dom escape the clutches of Charlize Theron's villain Cipher. 
Presenting her as the villain of the Hobbs-Shaw spinoff would work on a few levels. She'd have a larger role to play — and Mirren can fulfill her dream of driving a bad-ass car, no doubt — and there would be some personal stakes added to the film. Does Shaw remain dutiful to his new BFFFL Hobbs, or will the allure of returning to villainy with his mother be too much to bear? More importantly, what kind of car will Mirren drive? 
Bring back Han from the dead
Fast and Furious writer Chris Morgan has been teasing a Han return for a while. Frankly, the character was so beloved that they messed around with the timeline following the events of Tokyo Drift because they wanted to throw him into more movies. Sadly, he meets his end at the end of Fast & Furious 6 at the hands of a vengeful Shaw. 
This also becomes a surprising, yet reasonable discussion point for a franchise that often doesn't have to stick to any logic at all: Why is Dom and the rest of the crew so lax with Shaw after he murdered Han? Will we ever get #JusticeForHan? 
Maybe it can come in the spinoff. If Shaw is truly remorseful for killing Han, he'll do anything to make amends to Dom and company. So he decides to ask Hobbs for what many thought to be impossible: A time machine, known only to the highest levels of American government — including Kurt Russell's Mr. Nobody. 
Yeah, this would mean returning to the Tokyo Drift universe, which means reviving Lucas Black's forgettable attempt at a lead role. But for the sake of Han — and Shaw's tortured soul — it has to be done. Is resurrection too unreasonable? Um, look what they did to Letty! 
Go to space 
We all know the Fast and Furious franchise heading to space is an incredible inevitability, especially after Dom and the team basically stopped World War III in Fate of the Furious. But, bear with me, what if we had two movies in space? 
The first sees Shaw and Hobbs set out to stop Theron's Cipher, who decides if she can't control the global powers that be from a Russian submarine, she'll take her talents to the moon. Much of the Shaw-Hobbs spinoff is their venture into space, which includes stopping several of Cipher's minions (like Kristofer Hivju in Fate of the Furious, all the minions are played by actors who have minor roles in Game of Thrones) at her moon base. 
However, a last-minute gambit from Cipher — she has Shaw's mother, played by Mirren, imprisoned above a pool of sharks with laser beams attached to their head, and yes this has become an Austin Powers riff — causes Shaw and Hobbs to surrender. That's why Dom and everyone else have to go to the moon in the next Fast and Furious film, and we're all blessed with two movies that could very well be called the Space of the Furious. 
Fuck it, put them with Michael Bay and the Transformers 
Universal has another franchise with seemingly no end: Michael Bay's explosion orgy, the Transformers series. Really, the only difference is that critics generally love the Fast and Furious movies — and if and when they don't, it doesn't matter anyway. Transformers, however, continues to be a dumpster fire. 
So let's have Shaw and Hobbs help the Autobots take down the Decepticons in The Transformers and the Furious — and make the Transformers likable. Since many of the Transformers do transform into cars, including franchise stalwart Bumblebee as a Camaro, it would be a good way to cater to the strengths of both series. Sure, Bay can still wet his pants with some explosions, but this time they're coupled with some genuinely impressive stunts and racing sequences. 
This would also confirm that Tyrese Gibson's characters Roman Pearce of the Fast and Furious and Robert Epps of Transformers are actually the same person. As we all suspected. 
Mic has ongoing movies coverage. Follow our main movies hub here.