This Week in Choice: Good news for Missouri's Planned Parenthood, and more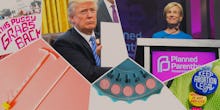 In banner news for reproductive rights advocates, 2016 proved the most successful year on record for anti-abortion protesters, and that makes unfortunate sense.
According to data released by the National Abortion Federation on Wednesday, "Incidents of obstructed access to health care facilities more than doubled in 2016," which also saw nearly 62,000 picketing incidents nationwide — more than any year for which the NAF keeps records. Meanwhile, hostility toward abortion rights continues unabated online, where the NAF clocked "more than 42,500 incidents of hate speech." That's a big leap from 2015, which saw just under 26,000 examples.
The NAF attributes this trend to the current "political climate," which is to say, the administration of President Donald Trump, one that in its first 100 days has already clearly demonstrated its commitment to defunding abortion clinics and limiting women's access to reproductive health care as much as possible. 
Still, the NAF's numbers do offer a few glimmers of hope: While abortion providers were increasingly the targets of trespassing, burglary, vandalism, stalking and assault in 2016, none of them were murdered, nor were any murders attempted. (In 2015, by contrast, the NAF counted three murders and nine attempted murders by anti-abortion activists.) Arson rates were also down last year. Regardless, though, that presence of any violent attacks on people who offer abortion care sort of flies in the face of the right's larger "sanctity of life" argument.
Here's what else you might have missed this week:
 • In an entirely uncharacteristic move, a Missouri judge blocked the state's looming abortion restrictions on Wednesday, leaving Planned Parenthood — which operates Missouri's lone abortion clinic — free to open four more centers.
• In other good news for Planned Parenthood, Republican Sen. Dean Heller seemed to completely flip his stance on use of federal dollars to fund clinics. The apparent change of heart was the direct result of a rather rowdy Monday-night town hall where Heller was the target of many boos and heckles. Is that all it takes to change a legislator's mind about improving access to women's health care? Noted.
• On Wednesday, the Assembly Health Committee in House Speaker Paul Ryan's home state of Wisconsin heard a proposal that would ban state employees from buying insurance plans that cover abortion. We're sure Ryan is very proud. 
• Nevada lawmakers have proposed a birth control bill that would make life miles more convenient for women in rural and low-income communities, allowing patients to pick up a one-year supply of their prescription in one fell pharmacy swoop.
• But those Nevada women should maybe reconsider the kind of contraceptives they use: A new study came out on Tuesday that offers yet more support for the "birth control makes you feel like shit" theory. Turns out, women who took one of the most frequently prescribed combination pill, rather than a placebo, were more likely to report generally bad feelings and moods, indicating that the pill had a negative impact on their well-being. The study noted that this elevated malaise was not associated with an increase in depression, just general emotional turmoil.
• In reproductive rights news that would make most anyone cross their legs, more than 800 women in the U.K. are suing the National Health Service for defective transvaginal mesh implants that have left many of them with severe pain and damage. 
• Beloved progressive Bernie Sanders raised some eyebrows this week when he backed Omaha, Nebraska, mayoral candidate Heath Mello, a known anti-abortion advocate. Sanders defended his endorsement, telling NPR, "The truth is that in some conservative states there will be candidates that are popular candidates who may not agree with me on every issue. I understand it. That's what politics is about."
• And following a court's temporary stay blocking Kentucky from shuttering its last remaining abortion clinic, the state has agreed to stand down pending a federal lawsuit.