This artist's photo series perfectly captures what it's like #BeingBlackAndMuslim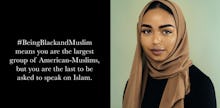 It's no doubt that we're living in challenging times. Some black Muslims, however, feel as if they are facing an increasing struggle to live in a society plagued with numerous reports of anti-Muslim and anti-black violence.
Visual artist Bobby Rogers wanted to uplift the voices and faces of black Muslims. Rogers produced a powerful portrait series based off of the #BeingBlackAndMuslim hashtag, which launched in 2014 and has since been the go-to hashtag to engage in an online conversation about the struggles of black Muslims.
Rogers tweeted his portrait series in a thread on Wednesday and explained the impetus behind the artwork. He said he wants to "put a face to the voices of some of the most resilient human-beings in the world."
"Simply existing at the axis of #BeingBlackandMuslim can be exhausting," Rogers tweeted. "You're always not enough. Always having to validate your existence."
Check out Rogers' stunning portraits below: