Exploring the theme of this year's Met Gala: Designer Rei Kawakubo's Comme des Garçons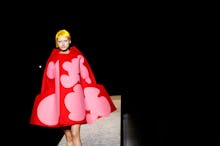 When the Metropolitan Museum of Art's 2015 Chinese design retrospective served as the theme for that year's Met Gala, Rihanna arrived on the red carpet looking like she was floating on a wave of gold, jewels and fur. 2016's theme of "Manus x Machina: Fashion in an Age of Technology" saw Taylor Swift  dressing in robot garb and Emma Watson donning an ensemble made of recycled plastic. 
So, what will the 2017 Met Gala bring, with its theme featuring Japanese designer Rei Kawakubo and her designs over at Comme des Garçons? 
If Comme des Garçons fashion shows can tell us anything, we're in for a very interesting Monday night.
Fashion show after fashion show, Comme des Garçons sets the bar for what fashion can look like and still be considered fashion, with a legacy of unparalleled creativity and innovation featuring larger-than-life dresses and coats on disguised models. 
For that, credit goes to Kawakubo, Comme des Garçons founder and designer. 
"Rei Kawakubo is one of the most important and influential designers of the past 40 years," Andre Bolton, curator in charge of the Met's Costume Institute, told Vogue when this year's theme and exhibit was announced. "By inviting us to rethink fashion as a site of constant creation, recreation and hybridity, she has defined the aesthetics of our time." 
Since her arrival into fashion in the early 1970s, the elusive designer has made fashion that is also art, focusing far more on the garments' effect versus their wearability. 
Having an art exhibit devoted to Kawakubo's Comme des Garçons — with the Met Gala celebrating its launch — makes perfect sense. Her clothes deserve to be in a museum, especially since plenty of her pieces don't look like clothing at all. 
Plenty of Kawakubo's pieces are so heavily detailed that they're worth viewing up close, like a painting or sculpture. 
Kawakubo is so influential in the eyes of fashion historians that her upcoming exhibit at the Met, which opens May 4, is the first time the museum has decided to honor a living designer solo since 1983's Yves Saint Laurent show, according to Vogue. It also appears to be a massive one, with 120 pieces expected to be displayed. 
As far as what to expect on the Met Gala's red carpet, it'll surely be one to watch. Kawakubo's designs are large and in charge, and demanding of a good gawk. We predict there'll be far less sleek, demure dresses on display.
If anyone shows up in a simple cotton dress, for example, they'd be playing to the opposite of what's made Kawakubo and Comme des Garçons so spectacular. But if celebrities arrive wanting to pay tribute to the designer, we're in for some of the loudest and most interesting fashion the Met Gala has ever seen, with exaggerated silhouettes and unthinkable proportions — especially with Katy Perry and Pharrell Williams, two fashion risk-takers in their own right, set to cohost the event.