Kim Kardashian put her own face on top of the Virgin Mary's on a vela and it costs $18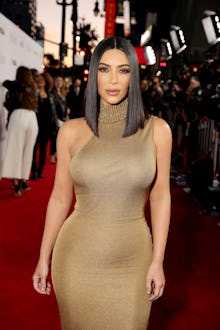 Kim Kardashian West announced on Twitter on Thursday that she's now selling a prayer candle with the image of the Virgin Mary — with Kardashian West's face superimposed on top — and some people are not thrilled with her new merch.
Kardashian West tweeted a GIF of the candle, which retails for $18 on her online store, and was quickly flooded with a backlash of replies accusing the reality television star of cultural appropriation and trivializing a religious figure.
Some questioned the decision to release a Kim-as-Virgin Mary candle just weeks after another Kardashian-Jenner family scandal: Kendall Jenner's now-retracted Pepsi ad which was widely accused of appropriating movements like Black Lives Matter and commodifying actual activism in order to sell soda. 
Kardashian West's new self-celebratory candle struck some as appropriative of Latino culture and exploitative of the people who actually use devotional candles for prayer.
Joke velas are already popular: Candles featuring saintly images of Drake, Michelle Obama and Kanye West are handily available for purchase online. 
However, internet comments would seem to suggest that smacking your own face on top of the Virgin Mary's and then selling it for money is a little different than the proliferation of unlicensed Kim K. candles that were already available for purchase online.