Justice Department calls NYC "soft on crime." Crime stats tell a different story.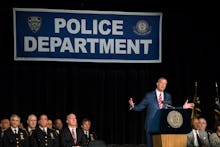 The U.S. Department of Justice on Friday specifically threatened to withhold grant money from nine jurisdictions it deems "sanctuary cities," demanding the cities release proof they are in compliance with a law that requires them to share information with federal authorities, including immigration officials.
In the process, the DoJ singled out New York City as a haven for crime, saying the city "continues to see gang murder after gang murder" as a "consequence of the city's 'soft on crime' stance."
The portrayal, however, flies in the face of actual crime statistics, which showed 2016 to be the "safest year ever in the history of New York City," New York Police Commissioner James O'Neill told USA Today back in January.
The grant the Justice Department would yank from cities like New York is the Edward Byrne Memorial Justice Assistance Grant, which gives local police departments funding for a range of programs.
The grant was even named after New York Police Department officer Edward R. Byrne, who was killed in 1988 while on the job, and is meant to "honor his sacrifice," according to the grant's website.
NYPD officials expressed shock at the DoJ's portrayal of its work.
"Did DOJ really say the NYPD is soft on crime?" J. Peter Donald, a former FBI official and the current assistant commissioner for communication and public information for the NYPD, tweeted.
New York City Mayor Bill DeBlasio and Police Commissioner James O'Neill held an impromptu press conference Friday to address the DoJ's comments, which the mayor called "outrageous and absurd on its face."
"We did not become the safest big city in America by becoming 'soft on crime,' a visibly irritated DeBlasio said. "This is an insult. ... This absurd statement needs to be renounced immediately."