American Airlines flight attendant allegedly hits woman with stroller in confrontation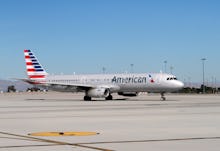 An American Airlines flight attendant allegedly hit a mother with a stroller while she was boarding a plane Friday night, apparently nearly striking the baby she was holding.
While there is no video of the alleged incident, video of the aftermath taken by another passenger, Surain Adyanthaya, and posted to Facebook, shows the mother crying and another passenger confronting the flight attendant, who angrily tells him to "stay out of it" and dares the passenger to hit him.
"You don't even know what the story is," the flight attendant tells the man.
"I don't care what the story is," the passenger replies, "you almost hurt a baby."
The flight attendant has been suspended from duty, according to American Airlines, and the company is investigating the incident.
"The actions of our team member captured here do not appear to reflect patience or empathy, two values necessary for customer care. In short, we are disappointed by these actions," the airline said in a statement. "The American team member has been removed from duty while we immediately investigate this incident."
This follows a high-profile incident recently when aviation police bloodied a passenger and dragged him off a United Airlines flight.