Trump baffles his staff again, this time by promising "massive tax cut" no one knew about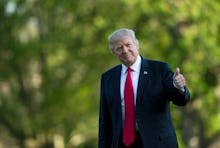 President Donald Trump surprised his staff Friday when he announced that he'd be revealing a "massive tax cut" next week, despite his Treasury Secretary Steve Mnuchin saying earlier in the day that "tax reform is way too complicated."
Trump did not provide any details about his new tax plan — just that it would be "bigger I believe than any tax cut ever" and that he would announce it next "Wednesday or shortly thereafter." 
Mnuchin had suggested earlier that a plan was far off, having pushed his tax reform goals from August to the end of the year. 
But Trump — with his 100th day in office fast approaching — is scrambling to net some wins after a rocky start to his presidency, and is apparently going to attempt to take on both tax reform and health care reform simultaneously. 
White House officials attempted to temper expectations after the announcement, explaining that Trump would merely be releasing a "broad" outline of a tax plan next week, according to the New York Times. 
Trump, though, seemed to double down on his promise Saturday, promising in a tweet that, "Big TAX REFORM AND TAX REDUCTION will be announced next Wednesday."
No one — maybe including his staff, apparently — knows for sure what the details of the president's forthcoming tax plan will be, but such confusion and lack of coordination is hardly rare in Trump's White House. In the chaotic Trump administration, staffers are "blindsided" by executive orders, officials regularly release contradictory statements and the president himself is reportedly not always fully aware of major personnel shifts. 
After announcing the coming tax reform reveal in an interview Friday, he repeated the announcement during remarks at the Treasury department, where Treasury officials were reportedly "speechless."
"This is really the beginning of a whole new way of life that this country hasn't seen in many, many years," Trump said in his remarks.