Bill Maher says Berkeley is a "cradle for f*cking babies" on 'Real Time'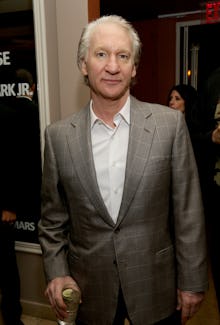 Bill Maher blasted Berkeley as a "cradle for fucking babies" while defending conservative troll Ann Coulter on Real Time Friday night. 
"Berkeley used to be the cradle of free speech," Maher said to the panel. "And now it's just the cradle for fucking babies."
The remarks came after Coulter's scheduled speaking engagement at the university was canceled after safety concerns. Protests turned violent at the school ahead of a scheduled appearance by another right-wing provocateur, Milo Yiannopoulos, back in February. 
That didn't sit well with Maher, who called Coulter's cancellation "the liberals' version of book burning."
"This goes on all over the country on campuses," Maher said. "They invite someone to speak who's not exactly what liberals want to hear, and they want to shut her down."
Maher also called out former Democratic National Committee Chair Howard Dean, who tweeted, "Hate speech is not protected by the First Amendment."
"Yes it is!" Maher said. "Threats are not protected by the First Amendment. This is why the Supreme Court said the Nazis could march in Skokie. They're a hateful bunch, but that's what the First Amendment means. It doesn't mean just shut up and agree with me."
Maher — a longtime friend of Coulter — is no stranger to Berkeley protests. In 2014, a petition was circulated at University of California Berkeley to have him canceled as the school's commencement speaker over his frequent comments about Islam. 
He brought up his own Berkeley controversy during the Real Time segment Friday, saying that he expected Coulter, too, would wind up getting to speak at the school and said that the liberal book burning had to stop.