Transgender woman Chay Reed shot and killed in Miami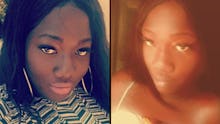 Miami has lost a member of its transgender community. 
On Friday, transgender woman Chay Reed, 28, was shot and killed in Miami, Florida, WPLG reported. An earlier report, which misgendered Reed, said that she was shot while running across the street. Her attacker fled the scene. 
In a phone interview with Mic, Patina Peterson, Reed's longtime friend, became emotional when speaking about their friendship. The two met at Job Corps, an education and job readiness program, in 2008 and lived on campus together in Homestead, Florida.
Peterson said the two would sit up and eat snacks in the middle of the night long after other members of their Job Corps cohort had gone to bed. 
Peterson said everyone called Reed "Juicy," but while at Job Corps, some people called her "Mama," to which she would respond "Daughter!" 
"She was a light, always trying to make everyone around her happy," Peterson said. "I don't even remember her getting into anything. I don't remember seeing her in an altercation out there with anybody in a bad way. I've never seen that."
Peterson said Reed loved to dance, and everyone knew her for her dancing skills. Reed taught Peterson how to do a dance called the "Chicken Wang," which involved squatting almost all the way to to the ground. 
Another of Reed's friends, Jadan Miorke, said in a phone interview that Reed's three favorite things were to "eat, dance and clown." 
The two met in 2006 at a teen night at a gay bar and have been friends since. Miorke said Reed was living with family and would don a feminine gender expression when she could. Since Miorke knew Reed, she wore makeup and eyelashes. 
"It was about the household she was in," Miorke said. "Whatever she could throw on, she could throw on. It was that type of thing." 
Miorke said his happiest memory was being able to take her to Littman Jewelers and pick her out a pair of diamond earrings for her 23rd birthday. 
"We come from the same background, she wasn't used to it," he said. "She couldn't pick what she wanted and I got her these diamond earrings. She went crazy."
Miorke said the two were in touch less frequently over the last two years, though they always remained close. 
"I just wish things would've gone differently," he said. "Just seems like nowadays being transgender is dangerous as a whole." 
Dozens of people already left messages in remembrance of Reed on Facebook. 
Peterson said she and some friends have discussed holding a vigil for Reed around where she was shot. 
Reed's killing is the ninth reported homicide of a transgender woman of color in 2017.  From 2010 to 2016, 72% of trans people who were killed were black transgender women or transfemme people.