March for Science 2017: Demonstrators rallied from the North Pole to New Zealand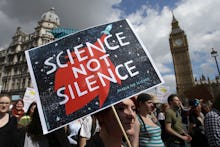 Today, science is everyone's favorite subject. 
While cities throughout the U.S. are hosting their own science marches, this is not just an American phenomenon. Globally, cities and countries are celebrating earth day by taking to the streets to march for science.  Because of the wonder of time zones, many of these countries' marches already began hours ago. 
Global March for Science
People from marches all over the globe shared pictures from the events on social media using the hashtag #GlobalMarchforScience, or specific hashtags depending on the country. 
Uganda
The Philippines 
Iceland 
Scotland
Nigeria 
Ireland
Mexico 
England
Around 10,000 to 12,000 people marched in London's streets to prove their love of science, Science reported.
New Zealand
Australia 
Greenland
Japan
Norway 
South Korea 
Hungary 
Germany 
Science says activists believe 11,000 Berliners showed up for science today.
Italy 
Brazil 
Kenya 
France 
Around 5,000 people took to the streets of Paris, Science reported. 
The North Pole
And yes, even scientists at the North Pole gathered to show their love of their discipline.