Photos from around the country show just how massive the March For Science really is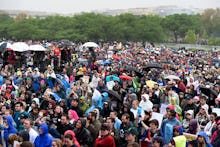 You don't need a scientific calculator to know that the March for Science was a massive success. 
Stretching across the United States — as well as globally from the North Pole to New Zealand — the March for Science saw tens of thousands of people take to the streets on Earth Day in many cities, adding up to totals much higher nationwide. 
Here are a few photos that begin to capture just how huge crowds nationwide became throughout the Earth Day celebration. 
New York City 
An NYPD official confirmed to Mic that the Big Apple's celebration of Earth Day and science drew about 20,000 people into city streets. 
Washington, D.C. 
Though no official numbers have come in, organizers estimate that 40,000 people showed up for science in Washington, D.C., according to Science.
Los Angeles
Los Angelenos crowded around Pershing Square in observance of Earth Day. 
Chicago
One Twitter user described Chicago's festivities as "pretty crowded." 
Houston
Sam Houston Park hosted a massive crowd of protesters, as well. 
Philadelphia
According to NBC10, 10,000 people marched throughout Philadelphia despite overcast skies. 
Phoenix
As early as 11 a.m. Pacific, one Twitter user in Phoenix estimated that 1,000 people showed up for the day's event. 
San Diego 
More than one Twitter user was able to capture aerial views of the San Diego gathering, which filled streets and squares.
Denver
Boston
A "damp but enthusiastic" crowd gathered in Boston Common.
Cleveland
Nashville
Rain couldn't dampen Nashville's march, either. 
The nationwide March for Science is the second gathering of its type this year. Earlier in 2017, cities nationwide hosted the Women's March, which exceeded Trump's inauguration in attendance, despite "alternative facts" given by his administration. 
Trump himself has denied climate change several times. His cabinet is also stacked with people who deny scientific consensus when it comes to the Earth's climate.