Trump urges "rigorous science" as world marches in protest of his anti-science policies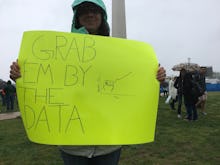 As hundreds of thousands protested his anti-science policies across the world in the March for Science, President Donald Trump marked Earth Day by touting the importance of "rigorous science."
"Rigorous science is critical to my administration's efforts to achieve the twin goals of economic growth and environmental protection," Trump said in a statement Saturday. "My administration is committed to advancing scientific research that leads to a better understanding of our environment and of environmental risks."
Trump — who has repeatedly denied the existence of climate change — has proposed devastating budget cuts to science funding, with the Environmental Protection Agency hardest hit by his so-called "skinny budget." That budget would also cripple scientific research at the National Institutes of Health and sharply cut funding to public education. The president has also appointed anti-science crusaders to key administration positions and reversed Obama-era environmental protections. 
Huge numbers of pro-science demonstrators took to the streets of Washington, D.C., and cities around the world to stand up to the Trump administration's anti-science policies and rhetoric, challenging the president on everything from the environment ...
... to vaccines ...
... to the importance of science in general.
Trump didn't mention the worldwide march in his statement Saturday. Instead, he praised America's "abundant natural resources and awe-inspiring beauty" and promised to protect them "for future generations" — as long as the "rigorous science" doesn't get in the way of his economic goals.
"We can and must protect our environment without harming America's working families," Trump said. "That is why my administration is reducing unnecessary burdens on American workers and American companies, while being mindful that our actions must also protect the environment."