Trump will hold a "BIG" rally rather than attend the White House Correspondents' Dinner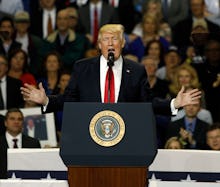 Instead of attending a night of light ribbing, Trump will be adored by his biggest fans. 
Though he previously announced that he would not be attending the annual White House Correspondents' Dinner, Donald Trump announced Saturday on Twitter that he will be in Pennsylvania attending one of his infamous rallies — in this case, to celebrate his 100th day in office. 
"Next Saturday night I will be holding a BIG rally in Pennsylvania," he wrote. "Look forward to it!"
The White House Correspondents' Dinner is usually a jovial night of light roasting. Comic Hasan Minahj, who has made his distaste for Trump pretty clear, will host this year's event. 
Given how thin-skinned Trump is to any criticism, even a Saturday Night Live sketch, his absence makes sense. 
Ironically, one theory posits that Trump's ascendance to the presidency began at the 2011 White House Correspondents' Dinner. In 2011, Trump attended the gala and was the subject of a few jokes from former president Barack Obama and Seth Meyers. 
The jokes spurred a need for revenge, according to the New York Times. 
The Times wrote: "That evening of public abasement, rather than sending Mr. Trump away, accelerated his ferocious efforts to gain stature in the political world." 
Rather than face any criticism, Trump will spend his time among his adoring fans. Trump's rallies were a hallmark of 2016 election season. They were often characterized by violence, not from rioters or protesters, but from attendees, though that has slipped Trump's mind time and time again.