Indiana University will ban athletes with history of sexual violence from competition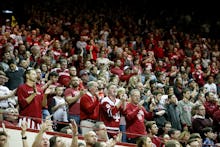 Prospective student athletes with felonies "involving sexual violence" or who have been disciplined for sexual violence at a former school will no longer be able to compete for Indiana University.
"I think this will be an important policy to help protect members of the Indiana University community," Indiana University Athletic Director Fred Glass told the Indianapolis Star.
According to the new policy, "any prospective student-athlete — whether a transfer student, incoming freshman or other status — who has been convicted of or pleaded guilty or no contest to a felony" involving "dating violence, domestic violence, rape, sexual assault or sexual violence as defined by the Indiana University policy on sexual misconduct" will be barred from competition by the athletic department.
Glass came up with the policy and the Faculty Athletics Committee approved it in early April.
The move comes as college athletic programs seek to crack down on sexual violence amid high profile cases, including one at Baylor University in which football players are alleged to have committed 52 rapes in four years while school officials covered it up.
The Southeastern Conference banned member institutions from accepting transfer students with a history of sexual violence and other "serious misconduct," but other conferences like the Big Ten — Indiana's conference — have left the matter up to individual schools.
According to Glass, the new policy strengthens Indiana's ability to handle sexual violence issues and could lead to broader change.
"I think it's new ground," Glass told the Star. "My hope is that we're leading in this area, and maybe others will follow with, maybe not the exact same policy, but one that fits their particular institutions."