Paul Ryan says avoiding government shutdown, not repealing Obamacare is current priority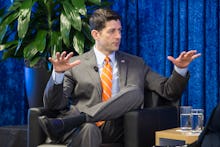 In yet more unwelcome news for the Republican Party and President Donald Trump's plan to repeal the Affordable Care Act, Speaker of the House Paul Ryan said health care reform was off the table until it had the necessary votes and he would be focusing on averting a government shutdown this week, CBS News reported.
According to CBS, a "GOP source" on a conference call with Ryan and party officials confirmed Ryan contradicted Trump's claim Republicans may be able to propose and pass an Obamacare repeal bill as early as this upcoming week. Ryan added the House Appropriations Committee has been working closely the White House to ensure whatever bill gets to Trump's desk has broad support within the party.
The first GOP effort to repeal the Affordable Care Act under Trump, the American Health Care Act, collapsed in late March after a report by the nonpartisan Congressional Budget Office concluded it would cost up to 24 million people off health insurance, spooking moderate Republicans — at the exact same time arch-conservative lawmakers in the House Freedom Caucus insisted the revised plan wasn't severe enough. According to the Hill, Republicans say they are inching closer to a plan which would enjoy consensus across enough of the party to pass a bill, but is not actually clear whether they have actually crafted a plan capable of doing so.
Even if the House manages to agree on a plan, there's no guarantee it will pass the more moderate Senate, where GOP leadership can only afford two defections without jeopardizing the bill's chances. Several more moderate GOP senators including Rob Portman of Ohio, Shelley Moore Capito of West Virginia, Cory Gardner of Colorado and Lisa Murkowski of Alaska all expressed concerns with the prior version of the bill.
According to the Hill, the current beta of the Affordable Care Act being floated by Rep. Tom MacArthur is a compromise hinging on "giving states the ability to have waivers to repeal a Obamacare regulation preventing people with pre-existing conditions from being charged more," suggesting the GOP is still mired down negotiating with conservative representatives whose proscriptions are likely to clash with public opinion.
Even in a best-case scenario, Ryan would already have his hands full with upcoming negotiations over the federal budget, a laborious process in the best years and seemingly likely to end in a deadlock this week. The new budget has to be agreed upon by April 28 to avoid a shutdown — though the White House has hinted it will risk such a shutdown to secure some of its priorities like increased funding on immigration enforcement of Trump's much-promised border wall with Mexico.