Kendrick Lamar's mom just reviewed 'DAMN.' in one perfect text message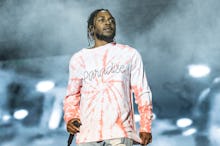 The enthusiasm around Kendrick Lamar's 4th studio album DAMN. has been fierce. In no uncertain terms, it's one of his best, thought-provoking, transcendent albums to date. And to hear Lamar's fans tell it, he might be on his way to G.O.A.T.
But one fan is especially enthusiastic — Lamar's mother, Paula Oliver. In a lengthy text that he screen-grabbed and posted to Twitter, she pretty much sums up how we all feel about a legend in the making. 
"OMG. This cd is the bombbbbb!" she wrote, followed by three crying face emojis. We're right there with you, Paula. 
"OMG. This cd is the bombbbbb!" —Kendrick Lamar's mom, channeling everyone
She continued, "This is your best one to me, no bullshit" — and finishes the line with the perfect use of a "100."
Remember, this text is from his mother, so naturally she has to mention that dad thinks he looks stressed out on the cover. But, in an effort to make us collectively swoon over the image of a thoughtful baby Kendrick with a note pad and a tape recorder, she wrote, "Since a Lil boy you been an overthinker tho," adding the stick-tongue-out-face emoji. 
She concludes explaining that she missed his Coachella livestream and that she heard he was floating on air. Get down from up there, Kendrick! And finally, "Your fans are some die hards. I love them." 
If only all our moms were this supportive of our rap careers.