Meet the everyday scientists, doctors and engineers of NYC's March for Science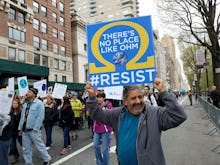 NEW YORK — Tens of thousands marched from Manhattan's Upper West Side to Times Square on Saturday in support of science, research and STEM fields after President Donald Trump's administration proposed cutting billions of dollars from environmental and health agencies, research grants and earth science.
With those cuts set to eliminate dozens of programs, lower the number of working experts in federal agencies like the CDC, EPA or FDA, and force research programs to survive on slimmer budgets, March for Science protesters working in science, medicine and engineering told Mic they were concerned they could be pushed out of their field or lose the funding that allows them to do their jobs. Others expressed concerns the administration's assaults on climate regulations, or flirtation with unfounded theories like the erroneous idea vaccines are unsafe, were regressive and could harm the U.S. and the environment.
Demonstrator M. Choudhury, who said she was enrolled in a Ph.D program in bioengineering, told Mic she and other graduate students don't know if their programs will survive under Trump's presidency.
"Pretty much everyone's waiting to hear back if we have funding," Choudury said. "... They're cutting funding from every federal agency and the sciences."
Here's a look at what some of the STEM professors, researchers, students and graduates had to say during Saturday's march.
Peter Lipke and Neta Dean
Peter Lipke teaches general biology, evolution and chemistry at Brooklyn College City of New York, and Neta Dean teaches biochemistry and cell biology at Stony Brook University.
Peter Lipke: We're here because ... the list is endless. Trump is racist, sexist, doesn't believe in reality, believes in a myth, in a fable that America is a white country where what you believe is everything that's important. All that stuff is just plain wrong.
Neta Dean: I'm here more because I feel a pressure in terms of the types of policies that are being implemented now that affect our environment, our water, our air and I just wanted to come out to make the point that, you know, it has to be based on facts and not...
PL: Ideology.
ND: Just money.
Rebecca Johnson, Kat Nordgren and Phillip Samayoa
Becky Johnson studies medical entomology — including subjects like the epidemiology of mosquitoes which transmit the Zika virus — while Kat Nordgren and Phillip Samayoa are medical students at New York Medical College.
Phillip Samayoa: We're here to support science, obviously, but currently under the administration ... under threat [are] sciences across all discipline including medicine. So we're here to show support and solidarity.
Kat Nordgren: We're particularly interested in human health and how it's influenced by environmental health, and that's a big concern, especially with Trump cutting funds to the EPA ... the impacts will be really dangerous for humans as well as the environment.
PS: I believe that you want to get to the root of a cause, more preventative medicine. In terms of environmental health, the impacts of those cuts, you're most likely going to see a rise in these preventable diseases ... any kind of chemical spills ... respiratory diseases. All of that can be prevented ... In the end, as well, there's an economic argument to it. It all makes sense, but for some reason this administration doesn't believe in logic.
Damina, Darissa and Diara T.
Damina, Darissa and Diara T., three sisters, said they marched on Saturday because they think defunding and shutting down scientific institutions will threaten progress. Damina said she is pursuing a master's in computer science, while Darissa said she is an art student.
Diara, who said she holds a degree in marine and environmental science, held a sign with the famous Martin Luther King, Jr. quote "nothing in the world is more dangerous than sincere ignorance and conscientious stupidity."
Damina: I'm here because I believe science is a very important aspect of life and it shouldn't be something that can be shut down. It can't be denied. It's not only important to think about science, and to think about all these different things that are happening, and just deny them. You have to think about it.
These are things that could save people's lives. These are things that are going to make brilliant minds, to help people think more about their actions, and how we can stay wise, save the planet and do more for the world.
Darissa: I'm here to show my support for the science community ... I think people want to defund science like "Oh, it's not important. Other things are more important, we need to support all the businesses and things." But it's important to support science. It encompasses everything. It's how we have the technology to do things.
Who do you think makes those airplanes? Science! It's science! ... Science is a very broad term, you can't say defund it, because that's kind of defunding everything.
Diara T.: I have that science background, I was obviously inspired to join. But I also am involved in the journalism field and a lot of it has been that focus on fake news and false content and biased reporting. It has been a convergence of the two fields. The importance of coming out here and engaging, whether you're from the science side, you're just a communicator, or somebody who's a fan of knowledge in general — it's important to come out here and really voice that opinion.
Phil Buchstaber
Phil Buchstaber, who received a bachelor's of science in horticulture at the University of Maine, held a sign referencing popular sci-fi cartoon Rick and Morty.
Phil Buchstaber: This is a big march, and it's good to see all these people come together for science. Which is what we all should be striving for every day, and not be divided by politics. A driving force in our society should be scientific research and how to advance our species further and how we can improve the planet and help anyone in doing so ... They cut most of the EPA, so you need not say more.
Perri Katzman
Perri Katzman, who studies psychology and cognitive neuroscience at New York University, said she was worried the Trump administration's plan to cut grant funding would cut already-scarce resources for research programs across multiple disciplines.
Perri Katzman: I'm a Ph.D. student at NYU and I'm here to fight for funding and science awareness ... Funding cuts for science, they're proposing huge cuts for grant funding, and we already don't have very much.
Samantha
Samantha, who only gave her first name to Mic, held a sign saying "This is what an atheist, Arab-American BIOLOGIST receiving free birth control through Obamacare looks like!!!"
Samantha, who works as an independent contractor in biology and medicine, said she had a master's in conservation biology and that further cuts to grant money could jeopardize the future of the discipline.
Samantha: I know a lot of people who, maybe their grant money is now being threatened ... they have to worry about the future of their careers. When really, I think when a lot of people my age got into conservation biology they thought "This is the future of science. This is maybe something that is safe because it's so clear that it's necessary."
Jim Duehr
Jim Duehr, a virology grad student at Mt. Sinai School of Medicine, carried a sign saying "Smallpox was an infectious disease." He was concerned Trump would cut services critical to public health and warned the administration was spreading misinformation about epidemiology and vaccines.
Jim Duehr: I am a third-year graduate student at Mt. Sinai School of Medicine studying vaccine design, and Ebola viruses, Hantaviruses and Zika viruses, and I'm concerned about funding for science and I want to preserve the future of public health so we can cure more diseases just like smallpox.
They care more about rallying their base more than they care about facts. You know, Steve Bannon once said that we don't need to provide funding for Zika, it will just solve itself —  I really don't believe that. I don't think that's true. And they convene these committees that are against vaccines for completely political purposes, and against fact, against the reality of scientists and science.
Manik Uppal and Jeremy Lessing
Manik Uppal, a medical student at Weill Cornell, and Jeremy Lessing, a research assistant for global environmental health nonprofit EcoHealth Alliance, said they were here because the Trump administration does not ground their decision-making on observable reality.
Manik Uppal: At the end of the day, what it comes down to is we believe in rationality. We believe in empiricism. And we believe that you need to use facts to judge how to make decisions in this life. There's no such thing as "alternative facts." You're entitled to your own opinion, but not your own facts, and that's what we're here to march for.
Christina Gagliardo
Christina Gagliardo, who said she is a pediatrician specializing in infectious diseases at a hospital in Brooklyn, wore one of the "pussy hats" made famous by the inaugural Women's March, and held a sign saying "science is basically an inoculation against charlatans."
Gagliardo said she was worried about growing skepticism of vaccines, adding Trump and his administration's flirtation with unfounded theories about their safety could impact public health.
Christina Gagliardo: I'm a staunch supporter of vaccines, and this administration has made some statements that I feel are a little negative towards vaccines ... Some people [in the administration] are least are saying that vaccines are good, but others are saying that they're optional and it should be up to the states to decide if people have to vaccinate.
Mr. Hess
Tore H., a retired science teacher from Chappaqua, New York, said his students called him Mr. Hess. He held a sign saying "There is no Planet B. Educate Washington," and said he had traveled from Carmel, New York to participate in the march.
Tore H.: I'm standing up for what I believe in and supporting science. With the administration the way it is, I thought they needed a little bit more support.