North Korea detains US citizens, bringing total to 3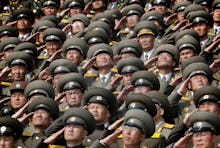 A United States citizen was detained in North Korea Friday, according to the Washington Post. 
The U.S. does not have an embassy in the country, but the Swedish embassy confirmed that authorities had arrested a man with the last name Kim, a professor in his 50s who was reportedly doing aid work in North Korea, at Pyongyang International Airport. 
According to the Post, Kim was formerly a professor at China's Yanbian University of Science and Technology and was on his way out of the country at the time of his arrest.
"He was prevented from getting on the flight out of Pyongyang," Martina Aberg, deputy chief of mission at Sweden's North Korea embassy, told CNN. "We don't comment further than this."
Kim is one of three U.S. citizens currently held in North Korea. In March 2016, Otto Warmbier, a 21-year-old student at the University of Virginia who was visiting the country as part of a tour, received a 15-year sentence to prison and hard labor for stealing a propaganda poster. North Korean authorities originally accused him of trying to "[bring] down the foundation of [North Korea's] single-minded unity," according to the New York Times. The sentence was extreme, even by North Korea's standards.
In April 2016, authorities sentenced Kim Dong-chul, a 62-year-old naturalized U.S. citizen born in South Korea, to 10 years of hard labor for spying. He reportedly confessed to having accepted money from South Korea in exchange for gathering military and nuclear intelligence. 
As the Post pointed out, North Korea has typically leveraged the Americans it's detained in negotiations, but Warmbier and Kim Dong-chul have proved exceptions. 
This most recent detention comes amid escalating tensions with North Korea, which run high as a rule. President Donald Trump is done with the previously held "strategic patience" policy, having responded to North Korea's recent nuclear missile tests with as-yet unfounded threats of military force. On Monday, Vice President Mike Pence visited the demilitarized zone and engaged in more saber rattling.
"Those who would challenge our resolve or our readiness should know," Pence said Wednesday, that "we will defeat any attack and meet any use of conventional or nuclear weapons with an overwhelming and effective American response."