Pope Francis criticized for comparing refugee centers to concentration camps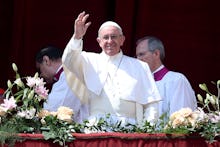 Less than two weeks after press secretary Sean Spicer's unfortunate claims about Hitler and chemical weapons, another public figure is coming under fire for Holocaust insensitivity: Pope Francis.
During an address on Saturday to a crowd of migrants at the Basilica of St. Bartholomew, CNN reported, the Pope spoke about a man he had met at a refugee camp on the Greek island of Lesbos — using a loaded term in the process.
"I don't know if he was able to get out of that concentration camp, because the refugee camps — many — are concentration (camps), because they are so crowded with people," Pope Francis said in Italian, as quoted in English by CNN.
In its description of the Pope's appearance, the Official Vatican Network passed off the comparison as an "off-the-cuff" remark, before emphasizing the idea that "international agreements seem to be more important than human rights" in the refugee crisis.
Though his wording suggests Pope Francis could have meant "concentration" in a more literal sense, rather than directly comparing the refugees' plight to Holocaust victims, the leader's decision to evoke a term so strongly associated with the Holocaust was immediately criticized.
In a statement, the American Jewish Committee was quick to decry the Pope's "regrettable" word choice.
"The conditions in which migrants are currently living in some European countries may well be difficult, and deserve still greater international attention, but concentration camps they certainly are not," AJC CEO David Harris said in the statement. "The Nazis and their allies erected and used concentration camps for slave labor and the extermination of millions of people during World War II. There is no comparison to the magnitude of that tragedy."
"We respectfully urge the Pope to reconsider his regrettable choice of words," Harris continued. "Precision of language and facts is absolutely essential when making any historical reference, all the more so when coming from such a prominent and admired world figure."