Nearly 100 days in, Donald Trump's poll numbers are still terrible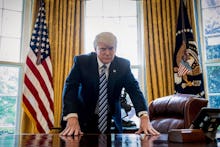 Forty-five percent of Americans think Donald Trump is off to a crummy start on his presidency, according to a new NBC News/Wall Street Journal poll.
Just 35% of respondents believed the president was off to a "great" or "good" start, with an additional 19% saying Trump has had "only a fair start" to his presidency. 
The poll additionally found just 40% approve of his performance, with a majority, 54%, saying he is doing a bad job.
Virtually all demographic groups polled had a distaste for the president, with the exception of whites without a college degree, Republicans and Trump voters, the latter group skewing 82% in favor of his administration.
The poll is yet further evidence that Trump's nascent presidency has already begun to derail. As early as February, Trump slid to the lowest approval ratings of any new president in the history of polling and has continued to do poorly amid scandals and missteps from FBI, House and Senate investigations into his rumored collusion with the Russian government and his inability to enact major parts of his agenda like repealing the Affordable Care Act.
At least publicly, the president has brushed off the criticism, calling the first 100 days "a ridiculous standard" and saying he has already accomplished "a lot."
"It's a different kind of a presidency," Trump told the Associated Press, adding it is "an artificial barrier. It's not very meaningful. ... Somebody put out the concept of a 100-day plan."