CNN anchor Alisyn Camerota says Roger Ailes harassed her while she was at Fox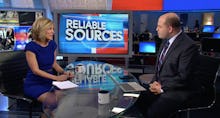 Fox News' sexual harassment scandal just keeps spiraling. 
On Sunday, former Fox anchor Alisyn Camerota sat down with Brian Stelter on CNN's Reliable Sources and confirmed she had been targeted by Roger Ailes, Fox's former CEO and chairman, during her time there. 
"Yes, Roger Ailes did sexually harass me," Camerota, who now works for CNN, said. 
"Roger Ailes was — could be charming," she continued. "He could be quite charismatic. He could be uproariously funny. He could also be a bit of a bully, and mean. And he also was often kind of grossly inappropriate with things that he would say, and I think that many of us experienced that.
"He would talk about body parts," Camerota added. "He would say, 'Give me a spin.' He would want to be greeted with a hug."
In July, Ailes resigned from Fox weeks after anchor Gretchen Carlson filed a sexual harassment suit against him. At least 20 women subsequently came forward with similar accounts. The most recent woman to sue Ailes is contributor Julie Roginsky, whose legal complaint came just after a New York Times report on Bill O'Reilly's serial sexual harassment plunged Fox into fresh scandal. 
Camerota said O'Reilly never targeted her. Ailes, meanwhile, turned vindictive early on in her Fox career, when he insinuated that her professional advancement would come with the pair "getting to know each other better ... at a hotel," which Camerota turned down. After that, she said, Ailes hectored her for not being conservative enough, politically speaking, in her news coverage, insulting her and subjecting her to "emotional harassment," Camerota said. 
Ailes' lawyer, Susan Estrich, denied the allegations. 
Yet harassment seems very much to be the norm at Fox. In firing O'Reilly, the Murdoch family — which owns 21st Century Fox and Newscorp, and thus, Fox News — said it wanted to "underscore [its] consistent commitment to fostering a work environment built on values of trust and respect." If that's true, Camerota said, she felt she should speak up: "It feels like this might be the right time to just have this conversation and let some daylight in."