Topless feminist activists from Femen protest Marine Le Pen on French Election Day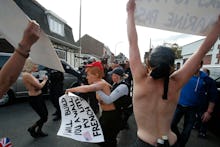 The world is watching Sunday's French presidential election, where candidate Marine Le Pen could potentially lead France down the road of far-right populism.
But Le Pen's trip to the polls on Sunday morning was met with resistance, as activists from the feminist group Femen arrived at Le Pen's polling place in Hénin-Beaumont, France, shortly before the candidate arrived.
Six topless female protesters arrived at the polling place Sunday morning, ABC News reported, where they jumped out of an SUV limo wearing masks of Le Pen and President Donald Trump.
The protesters' arrival caused a commotion, but they were quickly ushered into police vans and had their signs confiscated, ABC News reported. No disruptions took place when Le Pen was present at the polling place.
This isn't the first time Femen has protested Le Pen, whose campaign they oppose for being "falsely feminist." The group has caused similar disruptions at other Le Pen appearances, including a speech on Monday and the National Front's Paris May Day Rally in 2015. 
Femen protesters were also present at Trump's polling location in New York City on Election Day in November, the Independent reported.
On its website, Femen describes itself as an "international women's movement of brave topless female activists," whose ultimate goal is "complete victory over patriarchy." The activists' signature topless appearance, the website notes, is based on the idea of their naked bodies representing "the undisguised hatred toward the patriarchal order and new aesthetics of women's revolution."