Donald Trump awards veteran Purple Heart, says "congratulations" and "tremendous job"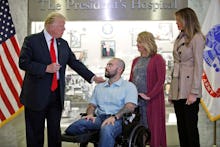 President Donald Trump, a man who secured five separate deferments during the Vietnam War, paid a visit on Saturday to Sgt. First Class Alvaro Barrientos, a man who lost a leg while serving in Afghanistan. 
During a brief ceremony at Walter Reed National Military Medical Center, Trump awarded Barrientos a Purple Heart and, oddly, offered his congratulations.
"So I heard about this, I wanted to do this myself," Trump told Barrientos, according to CNN. "Congratulations on behalf of Melania and myself and the entire nation. Tremendous, tremendous job, congratulations."
While it is among the military's highest honors, the Purple Heart is not exactly enviable. The medal is awarded to those who are killed or wounded in battle, which — as many people pointed out on social media — are less-than-"tremendous" circumstances. 
There are certainly more appropriate words Trump could have chosen. "Thank you for your service" springs to mind. 
It's not the first time Trump has stumbled over the subject of Purple Hearts. During the 2016 campaign, when he was but a prospective presidential nominee, Trump accepted a replica medal from a veteran. He offered some very cavalier thoughts on that gesture during a Virginia rally.
"I've always wanted to get the real Purple Heart," Trump said. "This was much easier."
That remark, too, prompted backlash. In an essay for Mic, Army veteran J.R. Martinez recalled the circumstances under which he earned his Purple Heart: He drove over a roadside bomb in Iraq and sustained severe burns while trapped in his vehicle, resulting in over 30 subsequent surgeries. 
"I can tell you without equivocation that the one award I did not want to receive was a Purple Heart, but I got one anyway," Martinez wrote. "And I'll tell you now, I didn't get mine the easy way."