French Election: 3 key things to know about Sunday's results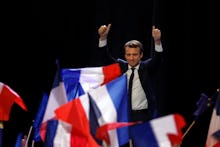 The first round of the French presidential election has come to a close, and only far-right candidate Marine Le Pen and center-left candidate Emmanuel Macron remain.
From a crowded field of 11 candidates, French voters whittled down their options and eliminated other popular would-be contenders, like conservative Francois Fillon and far-left candidate Jean-Luc Mélenchon. Macron, who shored up 23.7% of the vote, and Le Pen, who earned 21.7%, will now head to a runoff election on May 7.
Below are three key takeaways from the election results that will continues to shape the future of France.
The upcoming May election will be a showdown between a populist and a globalist
Le Pen is a member of France's far-right National Front party, which has been built up over the years upon a foundation of isolationism, anti-Semitism and xenophobia. The party is frequently bolstered by terror attacks in the country, which Le Pen has used to galvanize voters to support closed borders and increased restrictions on immigration.
Macron, on the other hand, is a pro-European Union globalist who stands in stark opposition to Le Pen's France-first policies. A largely untested politician, Macron has postured himself as the candidate of "the working class, and of the middle class." 
A vote between Le Pen and Macron, at its most essential, boils down to a vote on whether France's borders will remain open or closed — and whether the country will move closer to "Frexit," or a French exit from the EU.
The future of the European Union hangs in the balance
"What is at stake in this election is a referendum for or against lawless globalization," Le?Pen told the crowd at her victory rally on Sunday, according to the Washington Post. "Either you choose in favor of a total lack of rules, without borders, with unlawful competition, the free circulation of terrorists, or you make the choice of a France that protects."
"This is truly what is at stake," she said. "It is the survival of France."
Le Pen would be likely to send France to a vote on its future within the EU if elected, a move which could throw markets and the euro into turmoil just as it did when Britain voted to exit in 2016.
But Macron, by contrast, has repeatedly called the EU a solution for France, according to Politico, and has promised to strengthen the institution rather than dismantle it.
"A Macron presidency would change the narrative for the European Union, feeding the perception that we are past peak populism," Nicolas Veron, a French economist and fellow at Brussels-based think tank Bruegel, told the Wall Street Journal. "Lower political uncertainty could also help economic growth in the eurozone."
Experts don't think Le Pen's chances look good
While a Le Pen win would mean an uncertain future for France and its place within the European Union, analysts are saying with increased certainty that it seems unlikely to happen.
Over at FiveThirtyEight, Nate Silver writes that Macron is the "overwhelming favorite" to win on May 7, but adds that we'll still likely to see "two weeks of punditry that draws misleading comparisons between Le Pen, President Trump and Brexit — and that exaggerates Le Pen's chances as a result."
An important thing to note is that pollsters ended up being right on the money with their initial predictions that Macron and Le Pen would flesh out the two top slots on the ballot, lending credibility to their predictions in Macron's favor for the final result.
But as Vox notes, another terror attack on French soil before the second round of voting — something Le Pen would likely use to anchor her firebrand nationalism and stoke xenophobia across the country — could help her to shore up additional votes at the last minute.
If the wild elections of the past few months have taught us anything, though, it's not over until the final vote is tallied — and anything is possible.