NES Classic Edition Best Buy Locations: These stores will have final inventory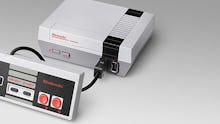 Nintendo announced that their NES Classic Edition's last wave of inventory would go on sale during April. Which means that before the mythical SNES Mini is announced, your last chance to buy the $60 NES console, complete with 30 games, is right now. As usual, Nintendo was vague about their supply — stating that April's shipment would be the last but not how many units or which specific stores would receive it. But luckily one retailer has spoken up about where you can get the NES Classic Edition before final sales run out. 
NES Classic buyers should pay very close attention to Best Buy Monday.
NES Classic Best Buy locations: Stores will have final stock of the retro console Monday
According to Best Buy's official Twitter account, the NES Classic console will be available in stores. Check out the proof below:
If you have even the slightest interest in purchasing the NES Classic, this tweet should be read with dramatic fanfare: trumpets, confetti, yelling or whatever else you fancy.
NES Classic Edition Best Buy locations: How to pinpoint which stores have supply
It's safe to assume the Best Buy tweet's mention of "in stores" means their limited NES Classic inventory won't be available for purchase online at all (the page doesn't even offer a way to order). By now you've likely already started your sprint to Best Buy, after leaving a you-shaped hole in the nearest wall. For others who haven't bolted to the store already, we recommend checking out Best Buy's map first to scope out which stores are closest to you. 
If you're interested in trying the console in-person before you buy, the NES Classic Best Buy website will show you which stores have the device on display.
After that — and this is the important part — make sure you call the store in advance to ensure that they're participating in the NES Classic sale. Stores that have it on display may not mean they have any consoles to sell. Call to confirm. No use trekking to the store and waiting in line only to find out they don't have the console you need.
Don't forget to check the hours. While many Best Buy stores start business at 10 a.m., others push open their doors an hour earlier. Do your research.
That said, make sure you snag a spot in line. It's likely that after Monday, procuring an NES Classic will be difficult, if not impossible. Other retailers may have consoles to offer up soon, but that remains to be seen. For now, the big blue and yellow is the best place to buy.
Check out more Nintendo news and coverage
Looking for more Nintendo coverage? Learn why the Switch cartridges taste so bad and how blind gamers are joining in on the Switch fun. Check out our comparison photos sizing up the Switch to the Wii U GamePad (part one and part two), find out how to make use of ethernet without the dock and the best way to get alerts when new stock arrives.