Donald Trump may have lied in 'AP' interview about having "never heard" of WikiLeaks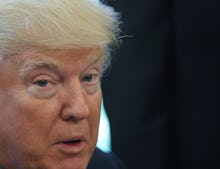 President Donald Trump appeared to flat out lie about what he knew about online leak publishing platform WikiLeaks prior to its role in the 2016 presidential election.
In an interview with the Associated Press on Friday, Trump was asked about his administration's "tougher line" on WikiLeaks founder Julian Assange, as the Department of Justice is now seeking to arrest Assange.
Trump answered by saying he had "never heard of WikiLeaks" until the site began dumping stolen emails from Hillary Clinton campaign chairman John Podesta in order to hamstring her campaign in the final days of the race.
"When WikiLeaks came out ... never heard of WikiLeaks, never heard of it," Trump told the AP.
That, however, flies in the face of Trump's past on-the-record comments about WikiLeaks.
In a 2010 interview on Fox Business, Trump commented on WikiLeaks' release of classified military documents leaked to them by Chelsea Manning.
"You look at WikiLeaks, I mean, in China, if this would've happened the people would get a bullet through their head within 24 hours and here in this country we're embarrassed, everybody's embarrassed," Trump said in 2010, according to footage of the interview dredged up by CNN.
That same year, Trump called WikiLeaks "disgraceful."
"I think there should be like death penalty or something," Trump told Fox News' Brian Kilmeade in 2010 of WikiLeaks, again according to footage CNN resurfaced. 
Trump, for his part, went on to praise the work of WikiLeaks during the campaign in his AP interview.
"When WikiLeaks came out, all I was just saying is, 'Well, look at all this information here, this is pretty good stuff,'" Trump said.
He finally added, after much prodding from Pace, that Assange's arrest is, "OK with me."