Nintendo Switch Stock: Target and Best Buy restock the console in time for 'Mario Kart 8'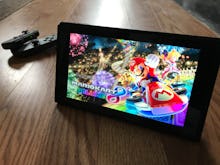 Nintendo Switch stock is so limited that as we come to the end of April, almost a full two months after the console's initial release, supply of the Switch remains hard to find at stores like Walmart and Amazon. When a retailer finally does have the Switch, it's included in pricey bundles, like those at GameStop and Target. 
Fortunately, supply is about to refresh in the best way possible: not in a bundle and just in time for Mario Kart 8 Deluxe.
Nintendo Switch stock: Target and Best Buy will have non-bundled units in time for Mario Kart 8 Deluxe
On Sunday, NinMobileNews confirmed on Twitter that Target and Best Buy would once again offer the hard-to-find Switch. The best news? The Switches won't be included in irritating and overly expensive bundles.
Both stores will sell Nintendo Switch units on Friday. 
With Mario Kart 8 Deluxe released on the same day, their timing couldn't be better. There won't be any discounts associated with buying MK8 Deluxe at the same time as the Nintendo Switch, but you won't have to pay at least $500 to get in on the racing action. 
Nintendo Switch stock: Be prepared for limited supply 
Since this is a restock of a Nintendo console, don't expect Target and Best Buy to be sitting on giant surpluses of Switch consoles. 
As Target notes in its flier, the Switch will be sold on Friday "while supplies last" — which means if you're not one of the first to arrive that morning, you better pray to the Nintendo gods there's stock left when you get there. 
In advance of the Friday sale, make sure you consult Best Buy and Target's store locators. Call nearby stores to make sure they're participating in the Nintendo Switch sale and check quantities of Mario Kart 8 Deluxe while you're at it. Expect to get to the store a couple of hours or so before it opens. 
The most important thing you can do when you're pre-ordering Mario Kart 8 Deluxe and getting your Switch? Make sure your purchase comes with a free Mario Kart Rubik's Cube, like it does at Target. What's a pre-order without a free kitschy Mario Kart-themed throwback collectible?
Check out more Nintendo Switch news and coverage
Looking for more Nintendo Switch news? Check out how blind gamers are using the Nintendo Switch. Nintendo's left Joy-Con issue turns out to be a hardware problem — here's how to solve it. Find out how to buy a console amidst the recent restock. Learn why the Switch cartridges taste so bad. Check out our comparison photos sizing up the Switch to the Wii U GamePad (part one and part two), or find out how to make use of ethernet without the dock and the best way to get alerts when new stock arrives.