Former Fox News guest walks back accusations against Sean Hannity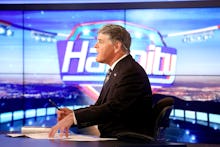 In the wake of Bill O'Reilly's firing, another Fox News pundit has been accused of sexual harassment — sort of.
In a Friday interview with local radio host Pat Campbell, former Fox News guest Debbie Schlussel recounted a troublesome incident involving Sean Hannity inviting her to his hotel room when the two were attending an event in Detroit. Schlussel said that when she spurned his advances, Hannity retaliated against her by never inviting her to be on his show again.
"After that, I wasn't booked on his show again. And he called me and yelled at me," Schlussel told Campbell. "I got a very weird feeling about the whole thing, and I kind of knew I wouldn't be back on his show."
Schlussel, however, walked back her allegations on Monday after many outlets termed them sexual harassment.
"Sexual harassment has a special meaning under the law, and I would never accuse him of that," Schlussel, an attorney, told LawNewz.com. "I never thought I was sexually harassed by Sean Hannity, I thought he was weird and creepy not someone I liked."
The U.S. Equal Employment Opportunity Commission defines sexual harassment as including "unwelcome sexual advances, requests for sexual favors and other verbal or physical harassment of a sexual nature."
When the Daily Beast reached out to Hannity for comment on these accusations, the Fox News host vehemently denied the allegations, calling Schlussel a "serial harasser."
"The individual has not just slandered me over the years but many people who this individual disagrees with," Hannity wrote to the outlet. "This individual desperately seeks attention by any means necessary, including making unfounded personal attacks and using indefensible and outrageous political rhetoric."
Hannity announced he would be taking legal action against Schlussel, saying he's lost his patience with her. The host also suggested her accusations were part of a politically-motivated attack — the same argument O'Reilly's lawyers made when they claimed left-wing conspirators had organized against their client.
"In this fiercely divided and vindictive political climate I will no longer allow slander and lies about me to go unchallenged, as I see a coordinated effort afoot to now silence those with conservative views," Hannity told the Daily Beast. "I will fight every single lie about me by all legal means available to me as an American."
April 24, 2017, 10:35 a.m.: This story has been updated.