Donald Trump took credit for military cost-cutting he had nothing to do with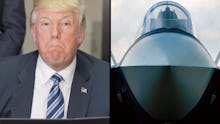 President Donald Trump took credit for saving millions of dollars on an order of 90 F-35 fighter jets, telling the Associated Press he helped save "$725 million" on the purchase.
The problem is, Trump had nothing to do with those cost reductions. 
In fact, the money-saving agreement was struck by Pentagon officials and jet manufacturer Lockheed Martin prior to the presidential election.
"We went from a company that wanted more money for the planes to a company that cut. And the reason they cut — same planes, same everything — was because of me," Trump told the Associated Press, according to a transcript of the interview published Sunday. "I mean, because that's what I do."
Trump's $725 million figure has changed multiple times since he claims to have struck the deal. In January, the president pegged that number at $600 million, according to the Washington Post. In a Feb. 3 press briefing, White House press secretary Sean Spicer said the figure was $455 million.
Prior to the announcement, the Washington Post's fact checker gave Trump "four Pinocchios" — the newspaper's biggest lie rating — for his cost-reduction claim.
"The Pentagon had already announced cost reductions of roughly $600 million before Trump began meeting with Lockheed Martin's chief executive," Michelle Ye Hee Lee wrote. "Once again, we award Trump Pinocchios for taking undue credit."