After being bullied for wearing makeup, this 12-year-old boy got the best gift from Ellen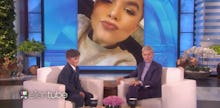 For his debut on The Ellen DeGeneres Show, 12-year-old Reuben de Maid wanted to look his best. So, for his powerhouse performance of "And I Am Telling You I Am Not Going" and subsequent sit-down interview with DeGeneres, he slipped on a sharp suit and coiffed his hair just so. However, unlike most other male performances, de Maid showed up with a full face of makeup. 
After his performance, that's what DeGeneres wanted to talk about because, according to him, he loves makeup just as much as he loves signing. 
"And there's something else that you love as much as singing. What is that?" DeGeneres asked, to which de Maid replied: "Makeup." 
"Ever since I was eight, I used to be so interested," he said. "And I [would] watch my phone for hours on end just learning from tutorials, like blogs, and seeing how to do it."  
But of course, as a young boy, other people at school haven't reacted all too kindly. Despite men making huge gains in the makeup industry, with male spokespeople for brands like CoverGirl and Rimmel and Maybelline, de Maid remains the outlier among his peers. 
"I used to get bullied a lot," he revealed. "I had friends, but not a lot. In my drama group, I used to get hit, punched and kicked. ... Then after two months, I tried to brush it off, but brushing it off just doesn't work. So I stood up to them and I told my mom."
In response, DeGeneres applauded his courage: "Good for you for not stopping being who you are," she said. "The fact that just because you want to wear makeup, that somebody thinks they have to hit you or even call you names — it's not hurting anybody, it's what you want to do. And you look fantastic." 
And she didn't just stop there. At the tail end of the interview, after de Maid revealed that he wants to create his own makeup empire of sorts, DeGeneres surprised him with the ultimate gift for a maven-in-the-making.
"I got you something to help you achieve that, OK? Let's go over here." 
She got him his own makeup tutorial station, complete with a desk, a new laptop and a lighting kit, perfect for someone who wants to take their YouTube makeup blogging to the next level. 
Looks like it's already time for these male beauty bloggers to make way for the next generation. 
You can watch the entire interview with DeGeneres below: