Anti-Semitic incidents jumped by 86% in the first quarter of 2017, report finds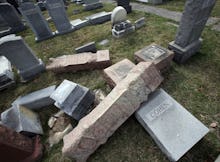 An annual report from the Anti-Defamation League, a Jewish civil rights group, contains some disturbing revelations: Anti-Semitic incidents in the United States surged in 2016, and continued to increase dramatically in the first three months of 2017.
The ADL's annual Audit of Anti-Semitic Incidents, released Monday, found that anti-Semitic incidents, including assaults, harassment and vandalism, increased by 34% in 2016 over the previous year. The organization recorded a total of 1,266 incidents in 2016 — nearly 30% of which happened in November and December, the last two months of the year.
The number of anti-Semitic incidents in the U.S. has only continued to surge in 2017, the report found. In the first quarter of the year, the ADL recorded 541 incidents, marking an 86% increase over the same period last year.
"There's been a significant, sustained increase in anti-Semitic activity since the start of 2016 and what's most concerning is the fact that the numbers have accelerated over the past five months," ADL CEO Jonathan Greenblatt said in a statement from the organization. 
"Clearly, we have work to do and need to bring more urgency to the fight,"he said. "At ADL, we will use every resource available to put a stop to anti-Semitism. But we also need more leaders to speak out against this cancer of hate and more action at all levels to counter anti-Semitism."
The incidents recorded in the first three months of in 2017 included 155 reports of vandalism, including three reports of desecrated cemeteries. There were also 161 reported bomb threats, according to the ADL. 
In March, a 19-year-old Israeli teenager was arrested in connection with at least some of a series of bomb threats against Jewish community centers and synagogues across the U.S.
The ADL's report also found that some 34 of the anti-Semitic incidents reported in 2016 were connected to the presidential election, including a report of graffiti in Colorado in May 2016 that said "Kill the Jews, Vote Trump."
"These incidents need to be seen in the context of a general resurgence of white supremacist activity in the United States," Oren Segal, director of the ADL's Center on Extremism, said in a statement. "Extremists and anti-Semites feel emboldened and are using technology in new ways to spread their hatred and to impact the Jewish community on and off line."