Trump brags about giving CBS show best ratings "since the World Trade Center came down"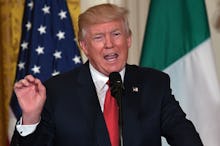 President Donald Trump has taken his chronic obsession with his own television ratings to a new low.
On Monday, the Associated Press published its interview with Trump in which the president bragged that he helped give CBS' Sunday show Face the Nation its highest ratings "since the World Trade Center came down."
"It's interesting, I have, seem to get very high ratings," Trump told the AP of his role in bringing viewers to television networks.
Trump used his boast as an opportunity to take a dig at the CBS show, noting his participation garnered "the highest for Face the Nation or as I call it, 'Deface the Nation.'" 
It's unclear what interview with Dickerson he's referring to. Trump is set to sit down with Dickerson in an interview that will correspond with Trump's 100th day in office. 
"It's the highest for 'Deface the Nation' since the World Trade Center. Since the World Trade Center came down," he told the AP. "It's a tremendous advantage."
Trump's crass comment that his own TV appearance was Face the Nation's most-watched since its coverage of the worst attack on American soil since Pearl Harbor isn't the only time he's betrayed an obsession with his ratings. 
During the transition period, Trump reportedly called the executive producer of CBS' 60 Minutes to ask if his post-election interview broke ratings records.
In fact, that interview set no records. According to the Hollywood Reporter, 24% fewer people watched his post-election interview with 60 Minutes than watched former President Barack Obama's first post-election interview in 2008.