New Frank Ocean and the NBA playoffs: Breaking down the loudest hype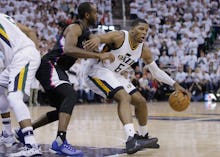 Any time an anticipated movie, TV show, album or other artistic product drops, one inevitable question lingers in the air: Does it live up to the hype? In our new weekly Hype Tracker column, the Hype staff will take a closer look at four pieces of pop culture from the past week. We'll break down how well each stacks up compared to expectations. This week, we're looking at the 'Hamilton'-inspired Kardashian musical episode of 'RuPaul's Drag Race,' the NBA playoffs, the History Channel special on the L.A. riots and new Frank Ocean. 
RuPaul's Kardashian family musical misfires
Since its seventh year, RuPaul's Drag Race has included a lip sync extravaganza challenge each season. These have ranged from an in-flight video to a herstory lesson about women like Marie Antoinette and Annie Oakley. For the ninth season, Drag Race decided to tackle the modern history of the Kardashian family in a Hamilton-style musical.
The episode was heavily hyped, to say the least – no less than Kim Kardashian West herself said she was going to tune in! So did it live up to the expectations? Not quite. The musical had humorous moments, but wasn't all that funny, and some curious omissions (where was Caitlyn?) kept it from being all that interesting. It was hardly unwatchable, but compared to something like season eight's "Bitch Perfect," "Kardashian: The Musical" paled in comparison.
Did it live up to the hype? Not Great, Bob. — Kevin O'Keeffe
The NBA playoffs are stressing me out in the best way
We don't often discuss sports here at Hype, but we need to talk about the first round of the NBA playoffs, which were going on all weekend. Mostly, I want to give special mention to two games: the Memphis Grizzlies versus the San Antonio Spurs and the Utah Jazz against the Los Angeles Clippers.
Let's start with the Jazz and Clippers Game 4 from Sunday night. Both teams were missing star players — the Clippers' Blake Griffin, who likes to dunk on people, is out for the rest of the playoffs, while Utah's Gordon Hayward barely played due to some nasty food poisoning. Their absence essentially guaranteed that role players needed to step up and fill bigger shoes. For the Jazz, that was 35-year-old Joe Johnson, who's been killing it all series (he hit the game-winning bucket in Game 1).
It really was a sight to behold. Johnson — who's been several years away from NBA relevancy and is mostly known for being grossly overpaid on a previous contract — bullied the Clippers' smaller guards for most of the game; most of his buckets came in the paint with some signature floaters. By the end of the game, the Clippers had to double-team him — he's 35! — and when they did, Johnson kept finding the open man for easy shots. He averaged just over nine points a game in the regular season, but finished this game with 28 points. I hope Johnson's unexpected renaissance lasts for the rest of the playoffs because this shit is fun.
Meanwhile, the Grizzlies had an uphill battle in Game 4 against the Spurs, who were up 2-1 in the series. Memphis is, quite simply, overmatched against them. Their current starting shooting guard is Vince Carter, the oldest player in the league at 40. Also going against them is the fact that the Spurs' best player is so good that the Memphis head coach has suggested that he's a cyborg who bleeds antifreeze. Such is the dominance of San Antonio's Kawhi Leonard, who at one point scored 16 straight points in the fourth quarter of Game 4, which should've ended the Grizzlies' playoff hopes. But clutch shooting from Mike Conley (a talented, yet undeniably overpaid player) and Marc Gasol helped Memphis even the series.
Did it live up to the hype? The NBA playoffs have just started, but my god, they're already living up to the billing. Sports are fun sometimes. — Miles Surrey
Frank Ocean blesses our weekend with new music  
While most of the music world tends to wait until the workweek begins to drop their music, Frank Ocean has found himself a solid weekend niche. Between Friday and Monday, R&B's chief autotune mystic dropped three new tracks during two episodes of Blonded radio. The first two were "Lens" and its remix featuring Travis Scott. Monday morning brought "Slide on Me," a remix of his 2016 song off Endless, this time featuring a verse from Young Thug.
It's a call back to the "I got twooo versions," tease that Frank during the waiting game for Endless and Blonde. He's made it a mantra. There are two Frank Oceans in 2017 — one who's down to play by hip-hop's rules and stack his singles with features and one iconoclast, preferring to ruminate on his blessings alone.
It's difficult to tell which serves a more necessary purpose. Young Thug has never crooned such soft, tender missives to molly; Travis Scott has rarely given himself so much space in his beats, forcing him to be a little more thoughtful with his ad-lib placement. 
Did it live up to the hype? Ocean is making our weekends and our favorite rappers better, and that's worthy of the highest praise. — Tom Barnes 
History Channel airs a timely special on the L.A. Riots 
History Channel did a bang-up job with their new special, The L.A. Riots: 25 Years Later. The documentary aired Sunday night and brought together a wide range of voices — from residents to law enforcement — to look back at the events leading up to April 29, 1992. While old footage is not hard to come by, the new interviews offered a fascinating insight from people who were on the streets during the "most destructive U.S. civil disturbance of the 20th century." 
The topic of racial injustice is as relevant today as it was 25 years ago. And even without the anniversary of the L.A. riots quickly approaching, the documentary is a must-watch. More specials are airing throughout the week. You can check out the lineup here.
Did it live up to the hype? As its 25-year anniversary approaches, the History Channel offered a fresh and insightful take on an important moment in modern American history. — Amanda Buckle