One teen's secret to making $1 million selling socks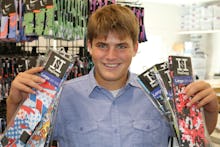 Few people are truly good at everything, which is why a fundamental rule among entrepreneurs is that you must hire folks with complementary skills to make up for your weaknesses. For the 17-year-old founder of HoopSwagg — an e-retailer that sold about $1 million worth of colorful customized socks in the last year — that meant seeking out people who could see in color. 
"All the leaves fall in the fall [look] like a blob of brown," HoopSwagg founder and CEO Brennan Agranoff, who is color-blind, told Mic. "The biggest problem I encounter is when teams come, and sometimes I'll butcher the team colors, so I have to have my parents... or someone else on my team" double-check them.
Like other teen entrepreneurs, high school junior Agranoff has gotten plenty of help from his folks — but he did start at an especially young age. The idea for HoopSwagg came to Agranoff in August 2013, he said, when he was a seventh-grader attending a high school basketball game. Everyone was wearing the same white Nike socks, Agranoff thought: So why not give people an opportunity to personalize the otherwise utilitarian athletic wear? 
In a phone interview, Agranoff attributed his success to a mix of social media influencing, supportive parents and accommodating teachers: "I'm answering emails on my phone all day," he said. "I also have a few business technology classes that let me work for school [credit]."
It takes about five to six hours a day to keep the business up and running, Agranoff said, which he squeezes in between classes, soccer practice, and homework in two-to-three hour bursts throughout the day. It's a tough schedule, and the teen admitted he sometimes misses class to maintain the website or grant media requests, now that he has started getting press.
"It didn't really go anywhere until I started reaching out to Instagram influencers," Agranoff said of his business. Indeed, increasing social media reach was also one of the reasons his business acquired competitor TheSockGame.com, which has more than 250,000 Instagram followers.
Success definitely didn't happen overnight. After coming up with the concept, Agranoff said, he used his own savings to make a prototype, teaming up with a local supplier who had access to the necessary equipment. When his first-run sold out on eBay, Agranoff convinced his father to give him a $3,000 loan to launch the business in earnest and buy a press of his own.
Agranoff now has a whole team behind him, with his mother working on the company full-time, along with 17 other part-time employees. But Agranoff said he still makes plenty of time to see friends and help out on the family's goat farm. HoopSwagg even sells "goat farm"-themed socks.
Agranoff told Mic he does plan to finish the requirements for high school by the second half of next year, at which point he plans to work on the business full-time: "I'm not set on college. I'm still looking at different opportunities," Agranoff said, adding that his parents "are not really pushing me in one way or another." 
Eventually, Agranoff said he hopes to expand HoopSwagg into brick-and-mortar stores, and he has already begun to diversify into customized and patterned arm-bands and shoelaces. His goal, he said, is to find other opportunities to turn undersung articles of clothing into colorful, unexpected fashion statements.
Sign up for The Payoff — your weekly crash course on how to live your best financial life. Additionally, for all your burning money questions, check out Mic's credit, savings, career, investing and health care hubs for more information — that pays off.