Rihanna, Lupita Nyong'o, Issa Rae and Ava DuVernay may be making a movie together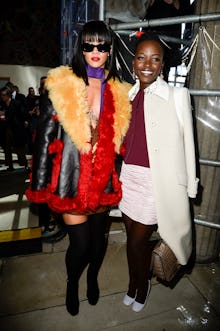 It looks like Twitter's gone and accidentally made something magical happen. On Tuesday, a photo of Rihanna and Lupita Nyong'o from Paris Fashion Week's Fall/Winter 2014-2015 show resurfaced on Twitter — and unsurprisingly, Twitter had some fun with it, creating a fictional movie based on the image.
It all started with this post from Twitter user @blaquepink.
Because it's clearly fabulous, the photo quickly nabbed a ton of responses, but that was only the beginning. Soon after, Twitter user @1800SADGAL responded with the basics of a pretty great film pitch. 
Soon, more and more users added their creative input to the idea, tagging Rihanna and Nyong'o along the way in hopes they'd jump on the bandwagon. Of course, no one expected it to actually work. 
Nyong'o's response to the thread made Twitter users go crazy, expressing their excitement and joy with GIFs and memes. But then it got even better: Hollywood started to actualize the movie.
Twitter began calling out Issa Rae, creator and star of HBO's Insecure, to write the script. She seemed on board with the idea. 
Then users decided on a director for the future heist movie. Ava DuVernay, director of the documentary 13th, was one of the first names tossed around.
She also replied favorably.
Even a well-known producer is already on board.
Rihanna was a little late to the Twitter party, but she, too, eventually responded in the affirmative.
Another director/writer named Xavier Burton, hoping to be part of the movie's inception, began jotting down some cool plot points. At first, users thought he was stealing the idea from the original creators, but he made sure to give them credit. 
It continued for another 19 tweets, even becoming a Twitter moment with the title "Dusk in California." 
So, will this Twitter dream of a movie actually happen? Only time will tell, although it does seem like all the necessary players are already on board. The stars also happen to be in prime position to take on a heist movie. Rihanna just wrapped Ocean's 8, and Nyong'o is currently filming Marvel's Black Panther.
If it does happen, Twitter will never stop patting itself on the back — nor should it.