Rob Kardashian and Blac Chyna's December fight plays out on 'KUWTK'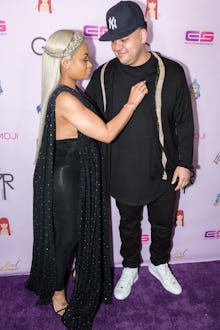 Rob Kardashian and Blac Chyna's tumultuous relationship played out on Sunday's episode of Keeping Up With the Kardashians. 
Episode 13, titled "The Ex-Files," explained the couple's explosive social media fight from December. For those who haven't been following along in real life, Blac Chyna's Instagram account was reportedly hacked at the end of 2016. The hacker posted intimate text conversations between the reality TV star and other men in an attempt to expose her infidelity. The hack also revealed her attempt to legally change her name to Angela Renee Kardashian. 
Blac Chyna confirmed the conversations were real, and the hacker directed her followers to check out Snapchats from Rob claiming she left him. Blac Chyna then accused Rob of perpetrating the reported Instagram hack. 
Sunday's episode replayed the drama, showing Rob posting on Snapchat that Blac Chyna not only left their house, but took their daughter Dream with her, too. 
After Rob gets a welfare check from the police, he talks with Kim Kardashian and Corey Gamble about the spat. "That's crazy the police just came. ... Do I look drunk in the video or something?" Rob asks about his Snapchats. "People that don't know you are going to get the idea that you were suicidal," Corey responds. 
Rob explains the Snapchats he posted following his fight with Blac Chyna were for him to let everyone know what he was going through. "I wanted people to know that I'm hurt and this is fucked up." 
While Kim has been friendly with Blac Chyna, it's more than apparent to her that the relationship isn't good for either of them. "I've always been super cool with her," Kim says after Rob recounts the argument. "I always hear her out and stuff, but just seeing the motives is, like, what's hurtful." 
Kim may be referring to Blac Chyna's behavior. Not only did she trash the home she and Rob rented from Kylie Jenner, breaking a TV during one of their fights, but she had also shaded the Kardashian-Jenner family on several occasions. 
Kim elaborates on her feelings about Blac Chyna in a KUWTK confessional, adding that "it's so clear what this relationship is and that they're just not meant to be with each other."
Later on in the episode, Rob tells Kim he still loves his ex-fiancé and doesn't want to give up on their relationship. "We're both working on ourselves. I've got a lot of shit to figure out," he says. 
After all the drama, the pair reunited briefly just before Christmas — sharing it all on social media, of course. 
Mic has ongoing Kardashians coverage. Please follow our main Kardashians hub here.