These 7 photos show the controversial New Orleans Confederate monument removal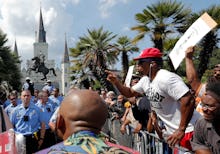 New Orleans demolition workers began a controversial scheduled removal of Confederate memorials from the city early Monday morning, a decision that has been met with intense outrage from some segments of the community.
According to the Times-Picayune, cleanup crews began hauling away parts of the Liberty Place monument just after 2 a.m., working under the cover of darkness and covering the name of the removal company's trucks with tape and cardboard so as to avoid provoking the ire of protesters. Police stood guard as they worked.
"This should be a celebration, but instead this is done clandestinely," one person there told CNN affiliate WVUE-TV. "They got the workers who are taking it down dressed in black jackets, helmets and their faces are covered, to us that's cowardice."
While some protesters say that the Liberty Place obelisk and the three others slated for removal in New Orleans — likenesses of Gen. Robert E. Lee, Gen. P.G.T. Beauregard and Confederate President Jefferson Davis — represent the city's Deep Southern roots, others believe that they represent a shameful, racist history and that their disposal is long overdue.
Below are seven photos of the statues in question — and of Monday night's contentious demolition job.