RuPaul's DragCon 2017 changes for families — and to rebuke Trump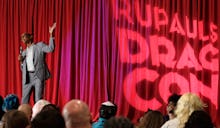 RuPaul's DragCon, now in its third year, could easily have returned in 2017 relatively unchanged. The format, which sees drag queens and queer stars congregate for panels and meet-and-greets under the watchful eye of mother RuPaul, is an easy sell for fans of both RuPaul's Drag Race and drag in general. The third iteration already drew over double the amount of ticket sales over the previous year, as the founders of Drag Race production company World of Wonder Randy Barbato and Fenton Bailey told Mic.
But Barbato and Bailey weren't interested in turning out the same exact convention for a third year. They wanted to make changes in order to respond to what they saw in the past and better fit the mood of the moment. The latter objective, of course, means awareness of what it means to put on DragCon — and to simply put on drag — in Donald Trump's United States.
When DragCon kicks off Saturday in downtown Los Angeles, the city's convention center will be packed with fans, friends, local queens and Drag Race superstars for nearly 50 panels and events. The sessions will range from learning makeup tips to live versions of World of Wonder's web series. And, of course, Ru herself will cap the weekend with her keynote.
But looking closer at some of those sessions reveals the changes. For example, there's Saturday's "The Art of Resistance," which brings together season nine queen Sasha Velour, comedian Phoebe Robinson, music producer A. B. Soto and social media influencer Raymond Braun (as moderated by Latinos Who Lunch) to talk about art in the current political climate. Another panel, featuring three trans queens from Drag Race — Sonique, Gia Gunn and Jiggly Caliente — will host a discussion about being trans on social media and fending off trolls.
The most explicitly responsive, however, is Teen Vogue's "What Is Drag In Trump's America?" panel, featuring Drag Race winners Bob the Drag Queen and Alaska and season nine queen Eureka. Not coincidentally, both Bob and Alaska are among the most politically outspoken winners of Drag Race.
Other changes to DragCon were less motivated by November's election, and more by Barbato and Bailey's own circumstances. As parents, they said they had a "selfish" desire to make the convention more kid-friendly. 
So DragCon 2017 will have a designated children's zone, as well as a panel just for young fans of the show called "Call Me Mother." Further amplifying the family focus: Sunday kicks off with a church service featuring season four queen Latrice Royale. It is titled, appropriately enough, "Can I Get an Amen?"
For the fan who isn't interested in politics and merely seeks a fandom-focused experience, there's plenty of that available. For example, season eight queens Kim Chi and Naomi Smalls will be performing their World of Wonder show "MUG" live for the first time, and Chi said in an interview she will sell much of her own merchandise, including her own makeup brand.
But just as drag is inherently political, DragCon is a political event. The convention is responding to the world around it and growing. Even just learning about applying makeup has a level of political power to it: In Trump's America, the very act of drag is an act of protest.
RuPaul's DragCon will take place Saturday and Sunday at the Los Angeles Convention Center. Videos from select panels will be available in the weeks after on World of Wonder's YouTube page.
Mic has ongoing RuPaul's Drag Race content. Follow our main RuPaul's Drag Race hub.