This teen used her prom dress to honor Trayvon Martin and the Black Lives Matter movement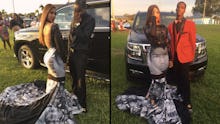 Florida high schooler Milan Morris and designer Terrence Torrence knew they wanted to make a statement at the Pahokee High School prom in Pahokee, Florida. But rather than go for just some extra glitz and glam, the two worked on a dress armed with a powerful statement on police brutality, its victims and the Black Lives Matter Movement. 
To prom this year, Morris, 17, arrived in a black lace dress covered with a collage of faces of just some of the most famous victims of police brutality, including Trayvon Martin, Sandra Bland and Michael Brown. 
"Yes I'm black. Yes I'm 17," Morris wrote on Instagram. "Yes GOD is using me to convey a message that's bigger than me."
After posting photos of the dress on Instagram and Twitter over the weekend, the dress has already gone viral, racking up thousands of likes on both of their social media accounts. 
One video of the dress, which was posted on Facebook, has racked up more than three million views since Friday. 
In an interview with Essence, Morris revealed that it was really all Torrence's idea. 
"He was the mastermind behind this whole thing honestly," Morris told Essence. According to Torrence, a young designer in Florida, he had had this idea for a year now, but it actually ended up taking just four days to make, from start to finish. 
"It was powerful. It was art. It was surreal. It spoke volumes," he told Essence. "It was powerful and a movement and I knew people would respond to it."
Indeed, plenty of people are, with comments like "You don't understand how much respect I have for you" and "I'm sure everyone had a different opinion regarding it but you had the courage to wear it, keep your head high and pull it off." 
Mic has reached out to Torrence and Morris for further comment.