Get 'Kentucky Route Zero' for free with Amazon Prime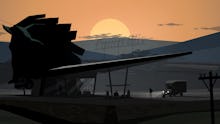 The monthly free games offered on PlayStation and Xbox have elevated indie games like Rocket League to unbelievable heights. It turns out that people will play free video games if you offer them. Amazon is jumping into the ring with a (very) temporary way to get the gorgeous indie darling Kentucky Route Zero for free. You better act quickly before it's gone.
Get Kentucky Route Zero for free with Amazon Prime
Twitch is still primarily a streaming service, but now that it's part of Amazon's corporate empire, it has a gaming storefront too. Twitch Prime is an extension of Amazon Prime, which is how you can get Kentucky Route Zero for free. According to Twitch, you have until the end of today to do it. 
All you have to do is link your Amazon Prime account with a Twitch account and install Twitch's desktop app to play it.
Kentucky Route Zero is a beloved indie adventure game separated into five acts, the fifth of which has yet to be released. Don't worry about the hassle of inventory management or solving puzzles with obtuse logic, as this is a game about narrative first and foremost. As the protagonist Conway, you will explore a magical realist vision of America's gas station-laden highways and interact with the eclectic characters who inhabit them. 
Kentucky Route Zero is adored by critics. Writing for Giant Bomb back in 2014, Cara Ellison called it "pregnant with meaning" and "all-encompassingly beautiful." If you already have Amazon Prime, go ahead and download it before the end of the day. Otherwise, you'll have to spend $24.99 for it.
More gaming culture and criticism
Check out the latest from Mic, including our deep dive into how female Overwatch players are dealing with online harassment, an article about a fan movement advocating for more same-sex romance options in Mass Effect, a personal essay about JonTron written by a fellow Iranian-American and an article looking at cultural diversity in Overwatch.