20 are arrested during protests against ICE's detention of undocumented activists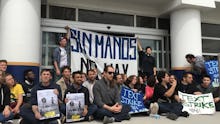 A group of 20 activists and faith leaders were arrested in front of Boston's South Bay Detention Facility on Monday, according to protest organizers. The 20 arrestees were part of a larger group of activists who staged a sit-in to protest the recent detention of an undocumented immigrant rights activist from Vermont.
"What we're hoping to accomplish is to make it clear to the community that we're going to be protecting every organizer — even if they're undocumented," said Maria Fernanda, an undocumented volunteer organizer and with the group the immigrant workers' rights group Movimiento Cosecha, who came to America as a child.
In March, three Vermont-based immigrants and activists associated with the advocacy group Migrant Justice were arrested and detained by U.S. Immigrations and Customs Enforcement. Enrique Balcazar and Zully Palacios were arrested while driving together in Burlington, Vermont. Alex Carillo-Sanchez, a dairy farmer who is also a member of Migrant Justice, was arrested separately that same week on his way to court.
After their detention, Balcazar and Palacios' lawyer claimed they were targeted because of their activism. They are both actively involved in Migrant Justice, and Balcazar also sits on a task force created by Vermont's attorney general to advise the state government how to deal with Trump's immigration orders. Both were eventually released by a federal judge on bail.
At the time of his arrest, Carillo-Sanchez was reportedly heading to court to deal with a drunk driving charge. According to local reports, he was on his way to the courthouse to have the charge dismissed when ICE arrested him. He remains in custody.
President Donald Trump's executive order on so-called sanctuary cities expanded the category of people ICE targets for deportation to include anyone who has been charged with a crime, regardless of whether they have been convicted or not. Since Trump took office, the number of immigrants without criminal records arrested by ICE has doubled.
The group arrested at Monday's protest included activists and clergy who identified themselves as citizen-allies of the undocumented community. Rev. Annie Gonzalez Milliken, one of the faith leaders who was arrested during the action said she was inspired to participate by the sacrifices that undocumented activists have made.
"I feel like as an ally I need to have their back," Gonzalez Milliken said in a phone interview before the protest. "As a person of faith, I feel like to live faithfully in these times is to practice resisting the forces of violence — the forces that want to tear families apart and detain people."
Activists also used the protest as an opportunity to raise awareness about their plans for a nationwide workers strike on May 1 — an event that organizers claim could be the largest single day strike in over a decade.