South Korean presidential front-runner releases custom 'StarCraft' maps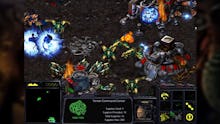 Many Americans are, understandably, still exhausted by just about everything that came from the 2016 presidential election cycle. Whether it was the increasingly ridiculous campaigning, broken friendships or the end result, it took a lot out of us.
After the impeachment and removal of President Park Guen-hye earlier this year, South Korea is going through its own contentious campaign to elect her replacement. Moderate Moon Jae-in of the center-left Minjoo Party has a decent lead in the polls right now, but that's not the most important part of this campaign.
South Korean presidential candidate releases custom StarCraft maps
The overwhelmingly popular real-time strategy game StarCraft just became free in anticipation of its upcoming HD remaster. To commemorate this momentous occasion, Moon made and released two custom StarCraft maps. No, seriously.
Game Informer says the maps are rather simple, with the one notable feature being Moon's name written in mineral deposits. Moon may be a StarCraft fan, but a master map designer he is not.
StarCraft is fairly beloved in South Korea, with the esports ProLeague shutting down last October after a staggering 14 years of existence. Other games have become more popular over the years, but the international video game community has associated StarCraft with South Korea for more than a decade. It makes sense for a presidential candidate's campaign team to spend an afternoon putting this together as a fun stunt. 
The South Korean presidential election is on May 9. The existence of a couple of StarCraft maps is unlikely to have any effect on the outcome, but it's a fun nod to a game that Moon clearly loves and the community that may bolster him in the upcoming election.
More gaming news and updates
Check out the latest from Mic, including our deep dive into how female Overwatch players are dealing with online harassment, an article about a fan movement advocating for more same-sex romance options in Mass Effect, a cool making-of video for Legend of Zelda: Breath of the Wild and an article about what a Bechdel test for gaming might look like.