'Pokémon Go' Metal Scale: Avoid waiting for a special item that doesn't exist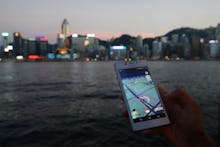 Special evolutionary items were introduced into Pokémon Go with the Gen 2 update in order to evolve some Gen 1 Pokémon into their Johto forms. For a while, these evolutionary items were entirely determined by the whims of caprice and the random number generator, and for the most part they still are. But the good news is that now the game has to give you a random evolutionary item every time you reach a seven-day streak for PokéStops.
If you've been wondering why you haven't been getting any metal scales though, there's a much simpler explanation than you're unlucky: That item doesn't actually exist. Chances are you're searching for one of the following two items, and we'll explain below.
Pokémon Go metal scale: Pick up the dragon scale or the metal coat for your evolutions
A metal scale, while pretty cool, is not actually an evolutionary special item in Pokémon Go — it's a combination of the dragon scale, which you can use to evolve Seadra into the much more fearsome Kingdra, and the metal coat.
The Metal Coat is an item that evolves both Scyther and Onix, two Gen 1 Pokémon who have new evolutions in Gen 2, according to IGN. Both evolutions will cost you 50 candies and a metal coat to perform. Scyther will evolve into the fearsome but perhaps not fearsomely named Scizor, and Onix will evolve into the forever grinning Steelix.
Steelix has heaps of defense, according to The Silph Road, with 333 for its defensive stat. Unfortunately, its CP (effectively a Pokémon's power rating in Pokémon Go) tops out at 2,439: a full 1,000 points below some of the top-tier gym Pokémon. So while it might look intimidating, don't expect Steelix to do too much heavy lifting in gym defense if your opponent plans to bring out a Dragonite.
If you're lacking in heavy hitters, Scizor might be the best option: it has much lower defense than Steelix does, but with 236 attack and a max CP of 2,801, it's within spitting distance of some pretty strong Pokémon. You might have to chew through some potions after the fact, but Scizor is a worthy addition to your team.
That said, the amount of Onix and Scyther candies you manage to accumulate by the time you get a Metal Coat might determine which evolution you go for first. Onix can be especially tricky to find, so by the time you find 50 candies, you might already have two (or more) Metal Coats, making deciding between them a non-issue. The RNG could always shaft you of course, but the time it takes to get 50 candies is nothing to sneeze at.
More Pokémon Go guides, tips and tricks
If you're booting up the game for the first time in a while to get ready for Gen 2, be sure to check out Mic's guides on how to get stardust, how to determine how long it will take you to reach level 40, the kind of Pokémon you get from 10km eggs, how to create new PokéStops, how to maximize your chances of catching Pokémon and how PokéStops distribute Pokémon eggs. Also check out how to catch Gen 2 baby Pokémon, our analysis of post-balance update Chansey and Rhydon and everything you need to know about finding the long-awaited Pokémon Ditto.